12. KProbe/PlexTools Scans - Page 1
BenQ DW1620A DL Recorder - Page 12
KProbe/PlexTools Scans - Page 1
In the following screenshots you can see the PI/PIF scans for the burned DVD±R media . The software we used for all measurements is KProbe v2.4.0, and the reader is the LiteOn LDW-811S with "HS0Q patched" firmware, being able to read DVD±R/RW media up to 8X CAV. All scans have been performed at 8X with PI/PIF Sum8. In addition, all discs have been scanned with the PX-712A (v1.04 firmware) using PlexTools v2.16 for comparison levels.
Comparing the KProbe and PlexTools scans we can see major differences in the reported PI/PIF error rates. The main explanation is that we have two different readers, with different pickup/chipset combinations, scanning at different reading speeds (8X CAV for KProbe, 2X CLV for PlexTools). It's interesting to see the disc scanned at low & high speeds, since when the error rate increases at a specific disc area, it should appear in both scans...else it would be, perhaps, a reading glitch of the tested reader.
Note: PI/PIF errors only give us a quick look at the error rate of the burned media. Those scans should be taken not as the absolute criteria of the burning quality but as an indication level.
16X DVD-R Writing Speed
Taiyo Yuden 8X DVD-R @ 16X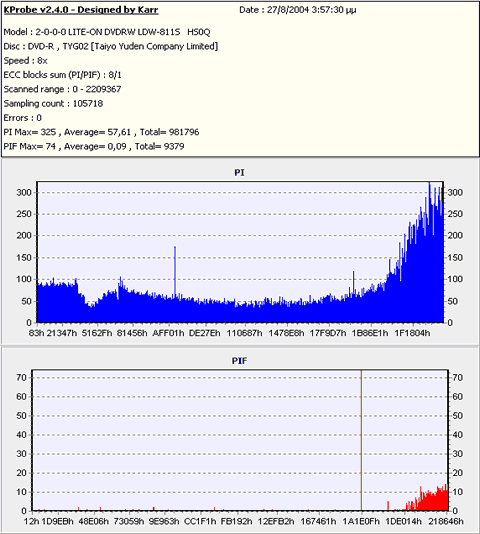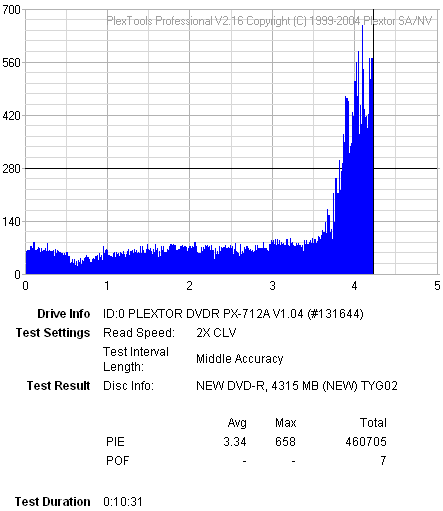 - Summary
While PlexTools showed good quality with BenQ 16X -R media, the PI errors as reported by KProbe were very high. With TY 8X -R media, both KProbe and Plextools showed good quality, however keep in mind that the disc didn't burn at 16X (burning time 10:18mins), where during the burn process the DW1620A dropped speed to 4X.