15. Conclusion
PowerColor 's X1950 PRO 512MB with ARCTIC COOLING, features the first-ever GPU manufactured with the 80nm fabrication process and the new CrossFire Bridge Interconnect. PowerColor has also included the ARCTIC COOLING Accelero X2 solution for its X1950 Pro platform.

The PowerColor X1950Pro is based on ATI's Radeon X1950Pro series with an improved air cooling system to provide lower noise and produce less heat and hence, better overclocking capabilities. It has all the benefits of ATI's 19xx series and more - with the new CrossFire Bridge Interconnect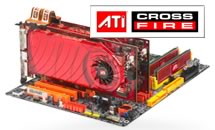 The two DVI-D ports are equipped with High-bandwidth Digital Content Protection (HDCP), meaning you can play back High Definition content. The card is also rated "Windows Vista ready". Moving on to the most interesting part, its performance, the card was a pleasant surprise for us. Not only did it surpasses the Nvidia 7900GS, but in several tests it reached and even outperformed the Nvidia 7950GT, especially with 16xAF/4xAA enabled. This shows the true potential of the PowerColor X1950Pro.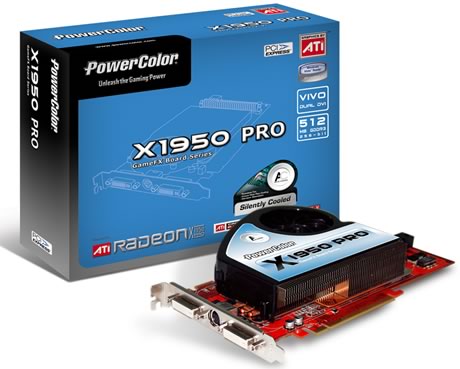 The retail package can be characterized as complete, even though there is no retail game included. The big air cooler keeps the card very cool and at the same time, it is also very quiet, something you have to hear to believe. The biggest negative we found, was the fact that overclocking was not possible. It's not a direct fault of PowerColor, since ATI's drivers are do not allow for this as yet and ATI Tool doesn't yet support it. PowerColor confirmed this issue, which hopefully will be resolved in the near future with an upcoming build of ATI Tools.
Concluding our review, we almost forgot the best news, its price. Users can find the PowerColor X1950Pro at the retail price of ~€250 in Europe and ~US$280 in the US. The only comparable card from Nvidia in this price range is the Foxconn 7900GS, which had much lower performance in all tests. So in our view, this is a must buy card for the category of €250. If overclocking were also possible, it would receive our Editor Choice Award :-)
| | |
| --- | --- |
| Performance | |
| Overclocking | ? |
| Bundle | |
| Value for money | |