1. Introduction

The RV570 is the first desktop GPU to be manufactured using the 80 nanometre process, and this core is designed specifically as a replacement for ATI's previous, R580 based, Radeon X1900 GT. It features eight vertex shaders and twelve pixel pipelines, each of which contains a single texturing unit and three pixel shader units, giving it a total of thirty-six. Alongside this, the core features twelve ROPs, and its Ultra Threaded Despatch Processor can handle 384 threads in flight at any one time, compared to 512 on high-end R580-based boards.
The X1950 Pro was released on 17th October 2006, with a MSRP of US$200 and is intended to replace the X1900GT in the competitive ~US$200 market segment. The X1950 Pro is the first ATI card that supports native Crossfire implementation by a pair of internal Crossfire connectors, which eliminates the need for external dongles as found in previous Crossfire systems. In terms of performance, the X1950 Pro trails slightly behind an X1900XT 256MB, due to a deficit of 4 texture units and 12 pixel shaders, as well as lesser GPU and memory clocks. The Radeon X1950 Series includes three versions with different core/memory clocks and pixel shader processors:
Core
Speed


Memory
Speed


Pixel Shader
Processors


Vertex
Shader


Radeon X1950 XTX

650 MHz

1.55 GHz

48

8

Radeon X1950 CrossFire Edition

625 MHz

1.45 GHz

48

8

Radeon X1950 PRO

575 MHz

1.38 GHz

36

8
The fastest X1950 Radeon card is the X1950XTX. Its core speed is 650MHz, while the GDDR3 memory runs at 690MHz on a 256-bit memory bus.
- Radeon® X1950 Graphics Technology - Features
A game powered by the Radeon X1950 is a beautiful thing to behold. It's sophisticated architecture employs Shader Model 3.0, enables simultaneous high dynamic range lighting effects and full screen anti-aliasing, and supports up to 512 MB GDDR4 memory for incredibly fast frame buffering.
Unite the power of two graphics cards to accelerate your games even further with CrossFire – the new reference for hardcore gaming. Add a Radeon® X1950 Crossfire™ Edition graphics card for ultra fast performance that works with all games, all the time. New "plug-and-play" CrossFire™ configuration enables quick and easy upgrade to professional-grade gaming performance.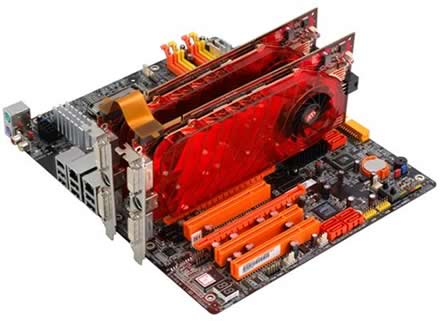 Experience stunning 3D graphics in today's most advanced games courtesy of the latest memory support (up to GDDR4) and Shader Model 3.0 The Radeon X1950 delivers unparalleled shader performance thanks to it ultra-fast implementation of Shader Model 3.0. It also supports GDDR4 memory to enable extraordinarily fast frame buffering. Watch your characters and their surroundings come to life with adaptive anti-aliasing and high dynamic range lighting effects.
The Radeon® X1K family are the only graphics boards on the market to combine Full Screen Antialiasing (FSAA)—the most advanced anti-aliasing technique in the world—with high dynamic range (HDR) technology. HDR mimics the human eye by displaying a broader range of colors within a scene. This allows for a wider spectrum of lighting effects, providing realistic shadows around buildings and landscapes.
Make the most of your PC
The Radeon X1950 is the ultimate upgrade for your multimedia system. It sets an industry standard for image quality in photos and DVD movies and provides full support for HDCP content.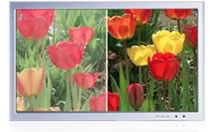 Rediscover your photos and video with the Avivo™ video and display engine and experience a billion more colors than ever before. Avivo's 10-bit-per-color display engine renders one billion more colors, resulting in images that are clean, sharp, and brilliant. It also uses ATI's Xillion™ and Theater™ technologies, which are found inside many of today's best digital high-definition TVs.
Ready your multimedia system for HDCP and watch high-definition content. The X1950 supports High-bandwidth Digital Content Protection (HDCP), a method of digital rights management that protects content. With a graphics card and a monitor that supports HDCP you can view this copy protected high-definition content.
A flexible, fully loaded, and future-looking graphics solution
The Radeon X1950 is designed to turn your system into the ultimate gaming platform. It will prepare your system for Windows Vista™, ensure that you get the most out of your high definition display, and prime your PC for future video technologies.
Take advantage of Windows Vista™ user interface and multimedia features The Radeon X1950 is a recommended graphics board for Windows Vista, Microsoft's soon-to-be-released operating system. It provides full support for Vista's image-intensive features, including Aeroglass, and enhances gaming, digital photo, and multimedia applications.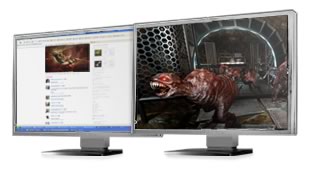 Take control with a high-performing upgradable gaming PC, powered by the most explosive multi-GPU platform Gaming PCs give users a greater selection of games, can be tweaked and configured for optimal performance, have more available accessories and can be upgraded or expanded when more performance is needed. Put ATI's fastest multi-GPU platform at the heart of your system to experience games in full detail and prepare for the future of gaming.
Display your graphics, however you like. On a large screen flat panel, a projector, or in a multiple-monitor environment, ATI's Avivo technology provides flexible connectivity, delivers high-performance support for high resolution DVI displays, supports multiple-monitor environments and enables simultaneous S-video and composite video output at independent resolutions.