13. NeverWinter Nights 2
Bards sing tales of heroes from ages past, but never have the Forgotten Realms so desperately needed a champion. Years have passed since the war between Luskan and Neverwinter, almost enough time for the wounds of war to heal. But the brief peace the Realms have known may be at an end. Tension growing between the mighty city-states means the Sword Coast again teeters on the edge of open war.
Unnoticed, a greater danger stalks the City of Skilled Hands. Unbeknownst to the denizens of the North, deep in the Mere of Dead Men, dark forces from across the Realms have been rallied under the banner of a legendary evil. If left unchallenged, all of the North is doomed to fall under its power.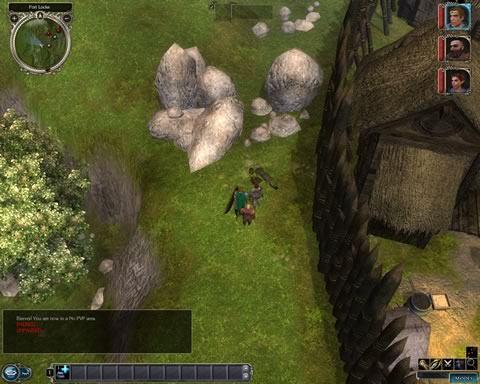 Even in this darkest hour, hope remains. A mysterious relic is borne to Neverwinter in the hands of a lone hero so that its secrets may be unlocked - secrets that carry the fate of all the North. So begins an epic tale of shattered alliances, noble acts and dark deeds to be told across the Realms for generations to come.
Under Game options, we maxed all available visual settings.
Anisotropic filtering was enabled under the "Advanced Graphics" tab, while Anti-aliasing modes were set by using Nvidia's 3D control panel.
We saved a gave and walked exactly the same route (more or less) and moved the camera a lot around the player. This is the worst case scenario while playing. By using FRAPS, we recorded two minutes of gameplay and got the lowest and average framerates.
NeverWinter Nights2 is a "difficult" game, with all visual improvements enabled, even for the eVGA 7950GT KO. The card sustains an average of 34FPS. On the other hand, the PowerColor X1950Pro showed an average performance of 26FPS, but notice that the lowest framerate was 9. This is not very satisfactory, and you may need to drop some details for this game.
Antialiasing is not offered from within the game options. Using each card's 3D control panel, we enabled up to 4x AA. The PowerColor 1950Pro provided good performance, while at 16xAF/6xAA it produced 26FPS, exactly the same as with "Company Of Heroes".