5. 3D Mark 05 v1.2.0
3DMark®05 is best suited for the latest generation of DirectX®9.0 graphics cards. It is the first benchmark to require a DirectX9.0 compliant hardware with support for Pixel Shaders 2.0 or higher! By combining high quality 3D tests, CPU tests, feature tests, image quality tools, and much more, 3DMark05 is a premium benchmark for evaluating the latest generation of gaming hardware. 3DMark05 is the answer to the continuously growing challenge in benchmarking!
For all tests, we used the default settings for 3DMark05 as follows:
3D Mark 05 is a well known benchmark utility that represents the combination of CPU+VGA strength. The PowerColor X1950Pro showed excellent performance, surpassing even the eVGA 7950GT KO.
- 3D Mark 06 v1.0.2
3DMark®06 is the worldwide standard in advanced 3D game performance benchmarking and the latest version in the popular 3DMark series! 3DMark06 tests include all new HDR/SM3.0 graphics tests, advanced SM2.0 graphics tests, AI and physics driven single and multiple cores or processor CPU tests and a collection of comprehensive feature tests to reliably measure next generation gaming performance today. Futuremark's exclusive Online ResultBrowser web service tracks and compares 3DMark06 scores. Again we left all settings as default: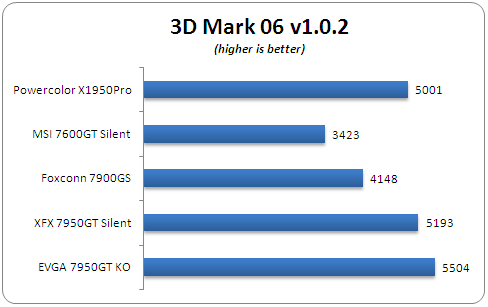 In 3D Mark 06, the performance of the PowerColor X1950Pro was not as impressive as in 3D Mark 05, with the Nvidia 7950GT based cards dominating.