24. Conclusion
With the SOHW-1693S, the latest release on the DVD-RW market, LiteOn at last enters the -R DL arena, offering up to 4X -R and +R DL burning support. It does more than that though. To please the LiteOn end users and fans, the drive's writing quality has somewhat improved from previous releases, offering good quality writings as we've seen in these review pages.
As a LiteOn drive, it still retains its fast CD reading and SL Pressed DVD speeds, being one of the fastest drives, though with DL media, it's not that fast, supporting up to 8X reading speed. CD error correction will satisfy end users as well as the DVD error correction mechanism, which managed to read smoothly all our defective test media. DAE quality tests reported good results, though the 90mins ripping could not be completed since the drive failed to identify the inserted media. As for protected games, the drive hasn't improved its ripping mechanism, managing to make working backups of SafeDisc protected games up to v.2.8. In the protected media field again, the drive managed to successfully rip all protected audio media and produce a flawless CDS200 protected audio backup.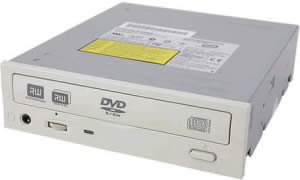 Even though the Plextools C1/C2 scans did not report any serious errors in most cases for CD media burned, the final "judge", the Clover Systems CDX Compact Disc Analyzer, did not grade any of the inserted media as a "Pass", which indicates poor CD burning quality. However, the drive's capabilities using DVD±R 16X media, as mentioned earlier has improved, and this is confirmed by the CDSpeed and Plextools Scans we've presented in the previous pages.
Using DVD±RW media, the 1693S was good. The reported writing quality from our tests is much better than the previous LiteOn burners. There were cases however which still need improvement, but these were few. With DL media, things were even better.
The LiteOn SOHW-1693S has plenty of features. It supports booktype change with all plus discs, while it can also be used for checking the writing quality of media. Moreover, the drive can be set to region free. With the appropriate utility you can read the firmware's supported media list and also adjust the writing speed for media.
The price at the time of this review for the retail package of the LiteOn SOHW-1693S burner was close to US$48 at newegg.com. A very low price.
- The Good
Good CD - DVD error correction
Supports protected Audio discs (CDS200, Key2Audio)
CD reading speed
Supports bitsetting for all plus media
Region free utilities
Can be used for DVD media error measurements
- The Bad
Doesn't accurately backup SafeDisc2 v2.9x+ protected discs
Doesn't support DVD overburning
- Like to be fixed
DVD writing quality with specific media
CD writing quality at 48X
| | |
| --- | --- |
| Retail Package | |
| Reading | |
| Error Correction | |
| Protected Discs | |
| Writing | |
| Features | |