23. BookType Setting
All LiteOn based drives support the Booktype setting, allowing the user to maximize compatibility. Users should change to the preferred booktype setting prior to burning +R, +RW or +R9 media.
In order to achieve a booktype setting change, we used the well known LiteOn users booktype utility, BookType 1.3.5 Version. We used a blank DVD+RW media and managed to change its booktype to DVD-ROM as seen in the following screenshots.
Prior to the change...
And with the booktype changed successfully.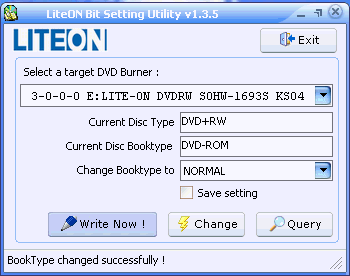 In order to change the media to DVD-ROM booktype, we must write the information on the media prior to burning, with the "Write now!" function, otherwise it will not be recognized as such by any drive.