Gainward HD4850 1GB Golden Sample
10. Overclocking
We performed a typical trial-error testing procedure in order to see the overclocking margins of the Gainward HD4850 1GB GS, which is is already factory overclocked.
Possibly the easiest way to overclock an AMD graphics card is to use the ATI Overdrive function. The " Auto-Tune" function gives us some quick numbers: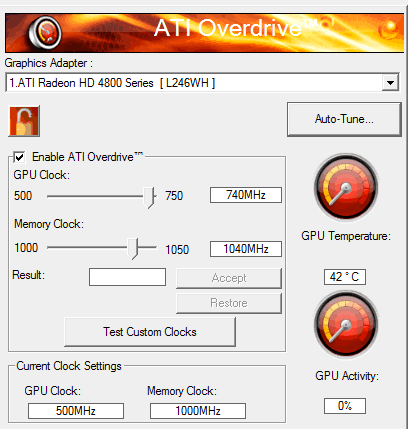 What we got from ATI's Auto Tune function is rather limited, since it showed that the core could go up 750MHz, while Memory was increased at just 1050MHz.
It's time to use a proper software to achieve higher overclocking. You have to download the latest RivaTuner software (in our case v2.11). For safer conclusions, remember to test the stability of the graphics card for each setting by running nine (9) rounds of Crysis.
Graphics Card

Core (MHz)

Memory (MHZ)

Normal

OC

Normal

OC

Gainward HD4850 1GB GS

700

771

1000

1201
The Gainward card proved to have wide overclocking margins. We managed to push the GPU clock at 771MHz, which is 71MHz more than the the original clocking. The memory clock reached the 1201 MHz.