Gainward HD4850 1GB Golden Sample
1. Introduction
Gainward has introduced an improved version of the generic ATI Radeon HD4850. The graphics card we have in our labs today features a faster GPU and memory and has 1GB of DDR3 memory. Before starting with our usual presentation of the card's features and specifications, let's say a few words about AMD's HD48xx series.
ATI Radeon HD 4800 Series GPUs is a "TeraScale graphics engine " according to AMD, promising to offer HD gaming and Blu-ray/HD content playback with incredible visual fidelity.
The new graphics engine combines the power of one teraFLOPS, 800 stream processors and next generation GDDR5 memory. It also supports tessellation, DirectX 10.1 and scalable ATI CrossFireX technology.
Like their predecessors, the ATI Radeon HD 4800 Series graphics cards offer optimal performance and efficiency with platform-independent intelligent power management. Regardless of platform, these graphics cards deliver the power needed during gaming while conserving energy at idle or when demand is low.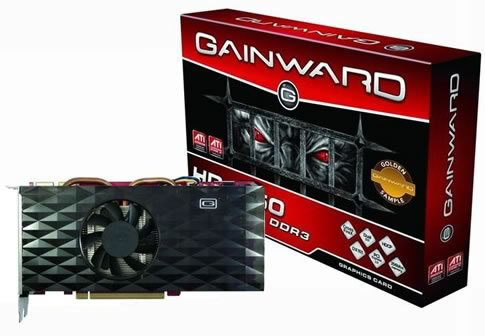 According to the system requirements, the Gainward HD4850 1GB GS needs a PCI-e based PC with one X16 lane graphics slot and a 450Watt (or greater) power supply with 75 Watt 6-pin connector. For CrossFire configurations, a 550 Watt PSU with two 6-pin connectors is recommended.
Our sample comes with a different cooling system than the generic ATI Radeon HD4850, potentially offering better conditions for overclocking. Our sample comes with a massive 700MHz core (625MHz for generic HD4850) and 1000MHz of memory (vs 993MHz for generic HD4850) clocks. As we have mentioned, it has an 1GB memory onboard (0.8ns) with a bandwidth of 256bits.
- Retail package
Below you can see the photo of the retail package of the Gainward HD4850 1GB GS. The graphics card is available for approximately €180.
All the included box contents are well-packaged and secured. In the box you will find a printed manual, a driver's disc, a power adapter and the DSub15-to-DVI converter. No retail game is included.
The attached cooling system has a 80mm fan. Despite its big volume, it will occupy a single PCI-E slot inside the box. On the other hand, two empty slots are required in the rear panel of your PC:
The available outputs include two DVI-D ports and one analog HDTV jack. However, not such cable is included (?). Two additional slots are available on the top side of the card for connecting two cards under CrossFire X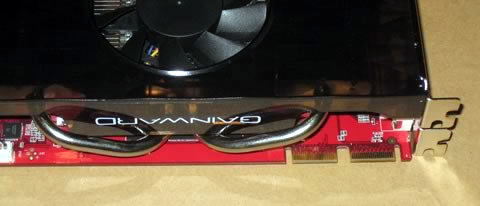 The HD4850 series need a 6+2pin power supply work properly. In case your PSU offers 6-pin power cables, the included adapter will work for you.
For all the tests we used the latest ATI Catalyst drives (8.9). The Catalyst suite provides basic information about our sample: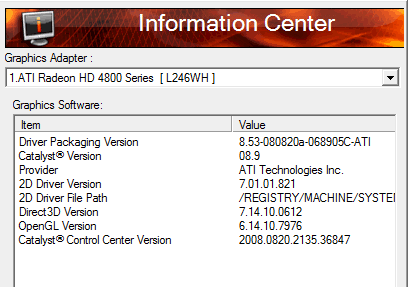 The popular GPU-Z utility gives us some additional information. Notice that the RV770 GPU of our sample has been manufactured using the 55nm technology:
By default, the fan speed runs at 50% while the GPU temperatures are rather low, at least at idle mode.