1. About the Glacialpower GP-AL650
As newcomer in the market of power supply units for PCs, GlacialPower, send us its first product rated at 650Watt. While GlacialPower may not sound familiar to you, it is actually a different name for the GlacialTech power supply products. The specific product had been announced more than one year ago but finally reached the market this year.
The AL series of PSUs is targeted at performance desktops, graphic workstations and gaming machines, at least according to the company. The complete series are rated with wattages of 350, 450, 55 and 650 Watts and offer Active Power Factor Correction (APFF) and 8/12cm fan options for cooling.
Our test sample is the 650 Watt version model GlacialPower GP-AL650A.
Conforming to ATX 12V (version 2.2 form factor) these PSUs support the Universal AC input range from 90V~264V AC with Active PFC and deliver an 80%+ average power efficiency and reduced power loss during transmission . The PSUs are also loaded with the latest internal power protection features including SCP, OTP, OPP, OVP (Over Voltage Protection) and OCP (Over Current Protection) to help safeguard PC peripherals from sudden power outages.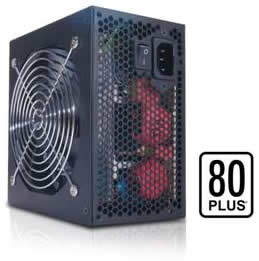 At full load, the fan noise does not go above 30dBA, according to GlacialPower. New onboard features like 'Fan Speed Control', 'Delayed Shut Down', 'Automatic Fan Switch Off at low loads' enable longer life for system components. Their MTBF is more than 100,000 hours and they are backed by a 2-year warranty.
- Features
ATX12V Version 2.2
Design with active PFC function
Dual +12V rails and +5Vsb capability 15 W
Full output power from 0°C to 50°C
Full protection features of SCP, OVP, OCP, OPP, OTP
Power efficiency meet Energy Star 80 plus program criterion
Fan speed control and delay shut down to extend components life time
Fan switch off (0 dBA) at low load and selectable between 8cm and 12cm
RoHS compliance and 2 yesr warranty
- Technical specifications