1. Features, specifications
After the launch of the 40nm GT210/GT220 series, Gainward released the Gainward GT 240 series of graphics card, featuring with 1 GB of DDR3 memory. The new card promises to offer even higher performance than the GT210/GT220 solutions. As always, Gainward releases improved versions of Nvidia's reference designs and the GT 240 series we have in our hands is "Golden Sample" featuring increased memory and core clocks.
Below is a comparison among various Nvidia-based products and their retail prices as they are found in online stores:
GeForce
GT 220

Radeon
HD 4670

GeForce
GT 240

Gainward
GT 240

GeForce
9600 GT

GeForce
9800 GT

Shader units

48

320

96

96

64

112

ROPs

8

8

8

8

16

16

GPU

GT216

RV730

GT215

GT215

G94

G92

Transistors

486M

512M

727M

727M

505M

754M

Memory Size

512 MB /
1024 MB

512 MB

512 MB /
1024 MB

1024 MB

512 MB

512 MB

Memory Bus Width

128 bit

128 bit

128 bit

128 bit

256 bit

256 bit

Core Clock

625 MHz

750 MHz

550 MHz

585 MHz

650 MHz

600 MHz

Memory Clock

790 MHz /
1012 MHz

1000 MHz

1700 MHz /
1000 MHz

1890 MHz

900 MHz

900 MHz

Price

$69 - $79

$67

$99

$150

$80

$90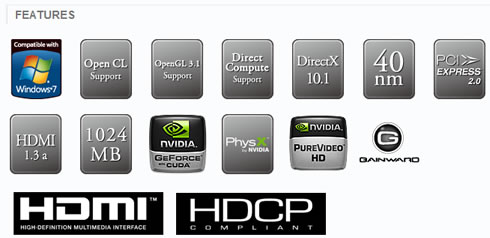 - Retail package
The Gainward GT 240 is packaged in a small box compared to other graphics cards.Of course there is no need to use a larger box since the card's board is rather small.
Gainward's card retails for around €129 (including VAT), which is almost twice the price of a Gainward GT220 card.
The package is easily identified with a light green color and the the GT 240/1024 GDDR5 and Golden Sample logos on it:
As we see with the most of the samples we test, the graphics card is well-packaged into an anti-static bag. Other than the card, the box includes an installation kit and a CD-ROM with drivers and software. These is the typical bundle for a low-priced graphics card so don't expect to find any extra games or connectors here:
As you may notice, there are similarities between the board of the GT 240 and the one met with the GT 220 series. However, the GT 240 has a much bigger cooler covering the GPU area. In addition, the GT 240 will occupy two empty slots at the back of your PC, but fortunately not any external power supply due to its 40nm design.
The Gainward GT 240 comes with a VGA, an HDMI and a DVI-D output, making it a truly universal product for most of the users.
After installation and according to the GPU-Z utility, the card's GPU core runs at 585MHz, the memory is clocked at 1890MHz and Shaders at 1424MHz: