Gainward GT220 Vs Inno3D GT210
1. The Inno3D GeForce GT210
Nvidia has recently released its first 40nm GPUs with the entry level GeForce GT 220 & GeForce 210 graphics cards. These two new entries to the 200 series pack quite a punch when comparing the shaders. GT220 has around 50% more shaders than 9500GT, and 210 100% more than 8400GS, according to Nvidia. Generally, both GeForce GT 220 & GeForce 210 brings some extra graphics processing power for everyday applications at an affordable price.
Today we put side by side the Inno3D GT 210 and the Gainward GT220. Before running the benchmarks, let's see some extra information about these two solutions.

- Inno3D GT210
As one of Nvidia's partner, Inno3D has launched the Inno3D GeForce 210 . As we previously mentioned, the card offers enough graphics processing power to modern PCs to deliver beautiful graphics, video, responsive photo editing and a Premium Windows 7 Experience.
The new Inno3D GeForce G210 surpasses its' predecessor (GeForce 8400GS) with high 3DM Vantage benchmarks while achieving optimized performance with all the latest features in the market. Below are the product's features:
2nd Generation NVIDIA Unified Architecture
The 240 enhanced processor cores that provide high shading horsepower is achieved via delivery of the second generation architecture with 50% more gaming performance over the first generation.
NVIDIA PhysX Ready
GeForce GPU support for NVIDIA PhysX technology - enabling a totally new class of physical gaming interaction for a more dynamic and realistic experience with GeForce. The PhysX processor is noted for being specifically designed to accelerate dynamic physical motion and interaction in games such as Ghost Recon Advanced Warfighter 2 (GRAW 2).
NVIDIA Unified Architecture
Fully unified shader core dynamically allocates processing power to geometry, vertex, physics or pixel shading operations, delivering up to 2X the gaming performance of prior generation GPUs
GigaThread Technology
Multi-threaded architecture supports thousands of independent, simultaneous threads, providing extreme processing efficiency in advanced, next generation shader programs
NVIDIA SLI technology
Delivers up to 2X the performance of a single graphics card configuration for unequaled gaming experiences by allowing two cards to run in parallel. The must-have feature for performance PCI Express graphics, SLI technology dramatically scales performance on today's hottest games
NVIDIA Lumenex Engine
Delivers stunning image and floating point accuracy at ultra-fast frame rate
16x Anti-aliasing
Lightning fast, high quality anti-aliasing at up to 16x sample rates obliterates jagged edges
128-bit floating point High Dynamic-Range (HDR)
Twice the precision of prior generations for incredibly realistic lighting effects-now with support for anti-aliasing
NVIDIA Quantum Effect Technology
Advanced shader processors architected for physics computation enable a new level of physics effects to be simulated and rendered on the GPU-all while freeing the CPU to run the game engine and AI
NVIDIA ForceWare unified Driver Architecture (UDA)
Delivers a proven record of compatibility, reliability and stability with the widest range of games and applications. ForceWare ensures the best out-of-box experience for every user and delivers continuous performance and feature updates over the life of NVIDIA GeForce GPUs
OpenGL 2.0 Optimizations and Support
Ensures compatibility and performance for Open GL applications.
NVIDIA nView Multi-Display Technology Advanced technology provides the ultimate in viewing flexible and control for multiple monitors.
PCI Express Support
Designed to run perfectly with the PCI Express bus architecture, which doubles the bandwidth of AGP 8X to deliver over 4 GB/sc in both upstream and downstream data transfer
NVIDIA PureVideo technology
The combination of high-definition video decode acceleration and post-processing that delivers high picture clarity, smooth video, accurate color and precise image scaling for movies and video

The Inno3D GT210 is a low profile card mostly aimed for the HTPC market. It comes with an 40nm GT218 chip, 16 processing cores, 8 groups of TFU, 8 groups of TAU, 4 groups of ROP and a 512MB SDDR3 memory (64bit). The core/memory/shaders clock are 598/1066/1402MHz respectively, with support for DirectX 10.1, OpenGL 3.0, PureVideo, PhysX, and especially CUDA, a feature Nvidia advertises a lot.
- The package
The Inno3D GT210 comes in a small box and retail for just ~€40, VAT included.
The package is fully decorated with numerous teasing logos and of course the sticker for the CUDA support, which accelerate many applications using the GPU and essentially reducing the load of the CPU.
Let's open the box. The graphics card is packaged into an anti-static bag. Other than the card itself, you will find just an installation kit and a CD-ROM with drivers and software. Don't expect to see any games or connectors - we have to do with a low-priced product here aimed at the entry market.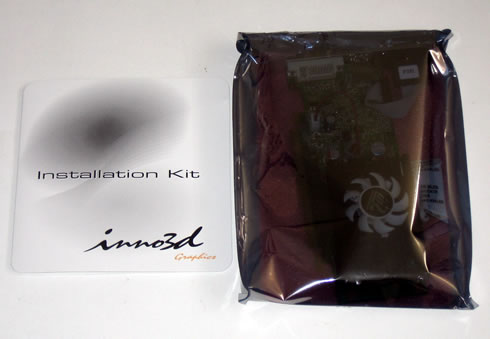 The card is really small compared to the currently sold Nvidia GTX2xx series. Powered by a 40nm GPU, the card does not need any additional external power besides the PCI E interface.
Removing the Inno3D cooler will unveil the Qimonda SDDR3 chipset and the Infineon mofsets.
The Inno3D GT210 offers VGA, HDMI and DVI-D outputs making it a truly universal product for most users.
We installed the graphics card and fired up GPU-Z utility. As you can see below, the GPU core runs at 589MHz, the memory at 533MHz and the Shaders at 1402MHz.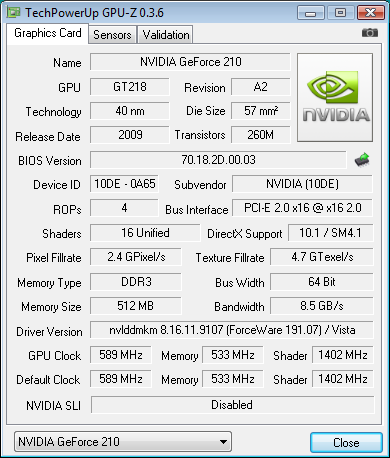 For our tests we installed the Nvidia Ver. 195.39 of drivers.