Gainward GTX 465 GOOD Edition review
1. Features, package, installation
Just one day before the Computex 2010 show kick off in Taipei, Gainward announced another product based on Nvidia's GF-100 Fermi architecture, the Gainward GeForce GTX 465 GOOD Edition (Gainward Optimized Own Design). This new model quenches desire of gamers looking for a balance of DX11 performance with more affordable price.
The "new born baby", aka the GeForce GTX 465 inherit's mighty DNA as its triplet brothers GeForce GTX 480 and GTX 470. The product is based on GF-100 Fermi architecture packed with 352 CUDA cores clocked at 607MHz. It sports 1GB of GDDR5 memory at 1,603 MHz in 256-bit memory interface with 11 Tessellation units (32 CUDA cores in one unit) optimized in parallel architecture by GigaThread engine.
The card has been designed for full compliance with all Microsoft DirectX11 hardware features. In addition, it supports 3D Vision Surround at triple full HD 1920x1080 resolution in SLI. The Gainward GTX 465 GOOD Edition has been also designed in strict 2 slots dual fan cooler, it fully supports 3 WaySLI without any interferences and promises excellent cooling performance even for the sandwiched card.
Grand Prix Heatpipes Hybrid Cooler with 2GR8 Fans. It's 2 COOL 2 be true!
Gainward Grand-Prix Heat-Pipes Hybrid Cooler, was designed in 6 mm copper-water heat-pipes on a copper base efficiently conducting heats away from GPU, then dissipating onto aluminum heatsinks, which are forced ventilated with 8 cm double-ball-bearings Twin Fans (2GR8). Achieve highest cooling performance at much lower temperatures under power saving mode and full load with much quieter operation noises than reference GTX 465

Threesome, awesome! Gainward GOOD design goes 3 Way
What can be more exciting for threesome of GTX 465 in 3 Way SLI run in 3D Vision Surround in 5760x1080 resolution! There are more than 400 games, which can be automatically converted into 3D by any 3D Vision supported GeForce cards.

QuattroPorts, 4 Ports in 1 card
Gainward provide 4 Full HD ports (DisplayPort, HDMI & Dual Dual-Link DVIs) in one, fulfills universal connectivity to diverse displays. Dual View is supported with ease without bothering connector conversion.

Expertool, Best Graphics Tuning Utility in the industry
Gainward takes care of your power-hungry desires, gears you up with its graphics tuning utility – Expertool, which enable clockrates and fans controls. Your babies are well protected by the safety net, the smart utility possesses fail-safe clock-down override, even a first-timer can exercise with peace of mind.
Below is a comparison among Nvidia's Fermi-based graphics cards. As you can see the the GTX 465 is features less stream processors and memory than the GTX 470 and 480 chips, and also comes at a lower price:
GeForce GTX
465
GeForce GTX
470
GeForce GTX
480
Stream (Shader) Processors

352

448

480

Core Clock (MHz)

607

607

700

Shader Clock (MHz)

1215

1215

1400

Memory Clock (data rate MHz)

3206

3350

3700

Memory amount

1024 MB

1280

1536

Memory Interface

256-bit x2

320-bit

384-bit

Memory Type

gDDR5

gDDR5

gDDR5
Here are the full specifications of the Gainward GTX 465 GOOD: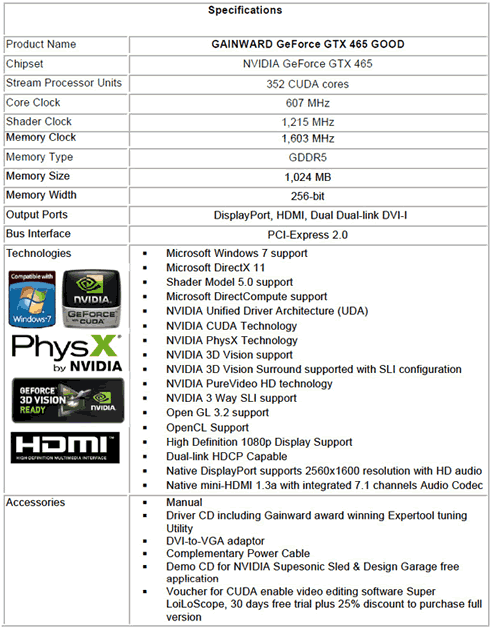 - Retail package
The Gainward GTX 465 GOOD retails in a package large enough for the card to fit in it. In order to buy it, you will have to spend around €265~300 (including VAT), depending the online store. This is almost what you would also spend for an ATI HD5850 solution.
As you can see in the picture below, the package look good and basic information about the card is available at a glance:
Inside, the card is packaged into an anti-static bag. Many accessories are also bundled, including a manual, a driver CD with Gainward's Expertool tuning utility, a DVI-to-VGA adaptor, a complementary power cable, a demo CD for Nvidia Supersonic Sled & Design Garage application as well as a voucher for CUDA-enable video editing software Super LoiloScope. A 30-day trial of the software is available for free. A 25% discount is provided in order to purchase the full version of the software:
The Gainward GTX 465 GOOD Edition is smaller in size than the Inno3D GTX 470 Hawk series we have already tested (23cm vs 27cm length). Gainward has equipped the card with a customized, dual 80mm fan cooling system with full copper heatpipes, as you can see below: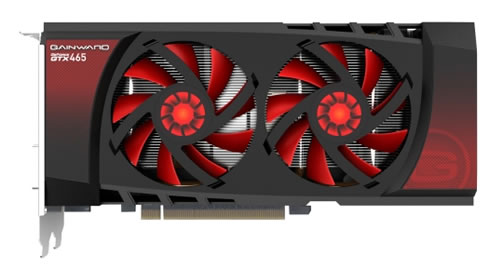 The Gainward GTX 465 GOOD Edition offers four outputs. A DisplayPort , a dual DVI-D and an HDMI for high definition streaming. The HDMI 1.4 supports xvYCC, Deep color and 7.1 digital surround sound and of output of 3D content (no Blu-ray 3D) when coupled with NVIDIA's 3D Vision technology: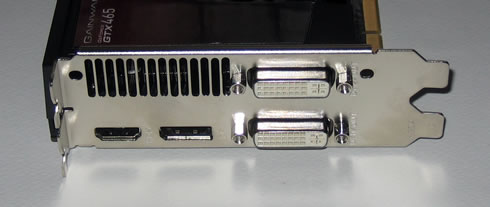 Two 6-pin PCI-E power cables are essential to power up this graphics card:
The right side of the card is almost open in order to help the cooling system work more efficiently: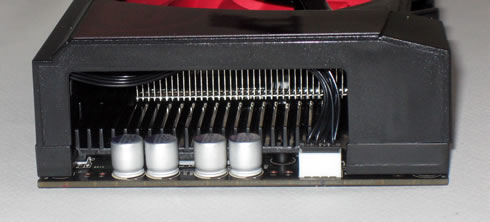 We installed the dual-slot graphics card in our test PC and used the GPU-Z utility to see some more information about the card. It's GPU core runs at 608MHz, the memory at 1604MHz and Shaders are clocked to 1215MHz: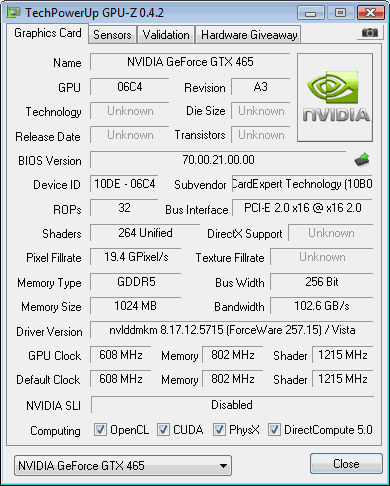 The GPU temperatures look good with the auto fan control enabled: