Gainward GTX 465 GOOD Edition review
7. Far Cry 2 (DX 9/10), Left4Dead (DX 9), StreetFighter IV (DX 9), Unigine benchmark (DX10)
Review Pages
1. Features, package, installation
2. Hardware, software testbed
3. DirectX 9, DirectX 10 settings
4. FutureMark Hall Of Fame
5. Crysis Warhead (DX9, DX10), S.T.A.L.K.E.R: Call Of Pripyat Benchmark
6. Company Of Heroes v1.71 (DX 10)
7. Far Cry 2 (DX 9/10), Left4Dead (DX 9), StreetFighter IV (DX 9), Unigine benchmark (DX10)
8. Dirt 2 (DX 11), Alien Vs Predator Benchmark v1.03 (DX 11), Overclocking
9. Summary
- Far Cry 2 (DirectX 9/10)
The 'Far Cry 2' supports both DirectX 9 and DirectX10.
The Gainward GTX 465 GOOD performed very well but didn't manage to come close to the Inno3D GTX 470. We can say their differences come to 6~9 FPS depending the quality settings and the resolution: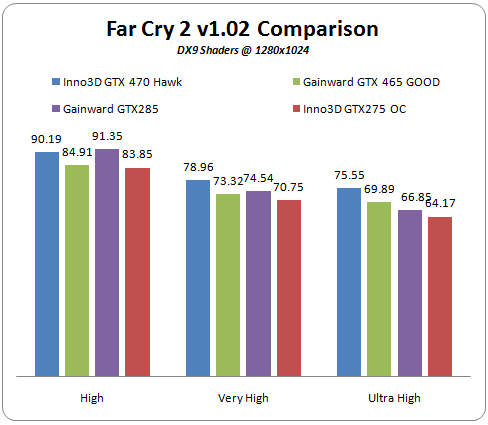 Enabling the DX10 shaders and the 'Ultra high quality' settings makes things more difficult for the Gainward GTX 466 GOOD card. The game is still very playable at 1920 x 1200 but the Inno3D GTX 470 Hawk is now faster by 10 FPS:
- Left4Dead (DirectX 9)
Left 4 Dead is a cooperative first-person shooter video game. It was developed by Turtle Rock Studios, which was purchased by Valve Corporation during development. The game uses Valve's proprietary Source engine, and is available for Windows and the Xbox 360.
We used a custom time demo and measured the performance of the graphics card for the resolutions of 1280x1024, 1650x1080 and 1920x1200, with 16xAF enabled and all visual settings maxed out.
The Gainward GTX 465 GOOD gave a decent performance with 100.14 FPS at 1280x1024. It also pleasantly surprised us with the 64.52 FPS result for the demanding 1920x1200 with 16xAA:
- StreetFighter IV (DirectX 9), Unigine Engine (DX10)
Lastly, two more benchmarks from the Streetfighter IV and the Unigine Benchmark Engine (DX10) demonstrating the graphic performance of the graphic card.
Unigine is a proprietary cross-platform middleware, developed by Unigine Corp. It is used as either a game engine or as an engine for VR systems. Unigine currently has support for OpenGL 4.0 and DirectX 11 It supports hardware tessellation and Screen Space Ambient Occlusion (SSAO), DirectCompute, and Shader Model 5.0.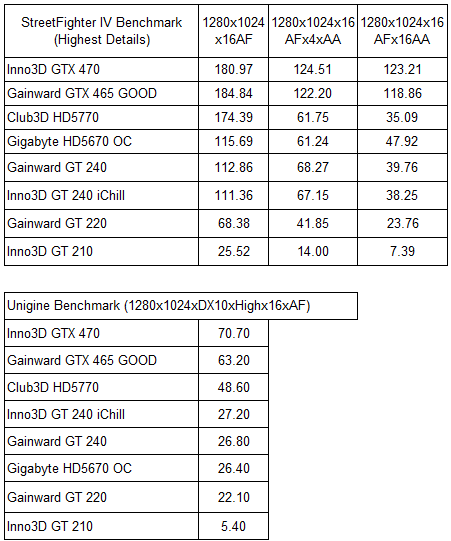 Review Pages
1. Features, package, installation
2. Hardware, software testbed
3. DirectX 9, DirectX 10 settings
4. FutureMark Hall Of Fame
5. Crysis Warhead (DX9, DX10), S.T.A.L.K.E.R: Call Of Pripyat Benchmark
6. Company Of Heroes v1.71 (DX 10)
7. Far Cry 2 (DX 9/10), Left4Dead (DX 9), StreetFighter IV (DX 9), Unigine benchmark (DX10)
8. Dirt 2 (DX 11), Alien Vs Predator Benchmark v1.03 (DX 11), Overclocking
9. Summary