2. Connectors
In this page, we will be taking a closer look at the PSU itself. The ION 2 has a lot of cables for connecting to the motherboard and any installed devices. Unlike other similar PSUs on the market, the ION 2 does not offer the option of removing any unused cables as all cables are fixed to the PSU. All cables are pre-sleeved though, making the inside of the case as clutter free as possible.
Above we have a side view of the PSU with the AC/DC input and output voltages, the model name VAN-460N, and various approval markings. Note here, that as the manufacturer warns, the cover of the PSU should not be removed, as there are no serviceable components inside. Vantec offers a 3 year warranty with the PSU.
The PSU as seen from the back. This is the part that is visible from the rear of the PC case once installed. There are the power input socket and an on-off switch, as well as 115/230V voltage selector switch on the far left of the case. The entire back plate is perforated and unlike traditional PSUs, there's no exhaust fan at the rear.
This is the PSU fan, top and side views. The ION 2 has a single 120mm fan, which is the primary reason why the ION 2 is so quiet. Its low rotation speed keeps the PSU silent and only when the temperatures exceed a certain threshold does the FAN rotate at max speed. Even then, the noise is still relatively low.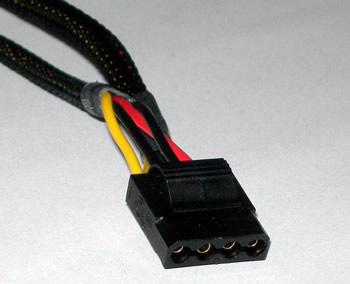 The pre-sleeved Molex power cables used for standard devices. Notice the Ez-Grip technology which makes for easy installation and removal.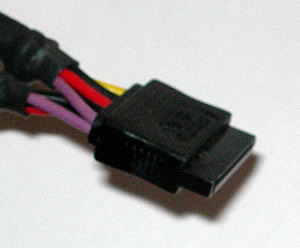 The ION 2 also has 2 SATA power connectors, covering the basic needs of users with SATA devices (hard drives, optical storage devices) installed.
This is the 24-pin to 20-pin adaptor used with the PSU. The Universal adaptor, ensures that the PSU can be installed in motherboards with a 20-pin connection (like the one used in our review). The PSU by default has the 24-pin power connector cable.
This is the 24-pin connector cable on the ION 2. As explained in the previous screenshot, the use of an adaptor (included in the retail package) is required for 20-pin motherboards.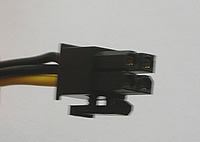 The standard 4-pin connector, also pre-sleeved. Ready to be plugged into the motherboard.
Last but not least, the 6-pin connector which comes on a separate line that is used to supply PCI-E graphic cards that use an extra power supply cable.
Now, let's move on with the review and the installation of the ION 2 PSU.