1. Introduction
As long as your graphics card is not passively cooled with just a heatsink, chances are you're already looking for a new cooling solution for your card. Stock fansinks tend to deteriorate in performance easily, make a lot of noise or in some cases are just insufficient when overclocking the card.
In this article, we'll take a look at one of the few existing solutions for these problems, a VGA cooler from Vantec, the ICEBERQ 5 (CCB-A5C).
Vantec ICEBERQ 5 (front)
The ICEBERQ 5 is a very silent, ball-bearing fansink and a great looker. The rotation of the fan activates a bright blue light which will appeal to most case modders. It uses a solid copper heatsink for its base which offers the best thermal conduction but also contributes to its excessive weight compared to other Graphics card coolers.
Vantec ICEBERQ 5 (rear)
The finish on the bottom of the round copper base is very smooth and initially covered by protective tape to prevent any scratches.
Another great feature of the ICEBERQ 5 is the accompanying heatsinks for the memory modules. The ICEBERQ 5 stands much higher than the round base, which allows enough headroom underneath for you to install the heatsinks without any problems.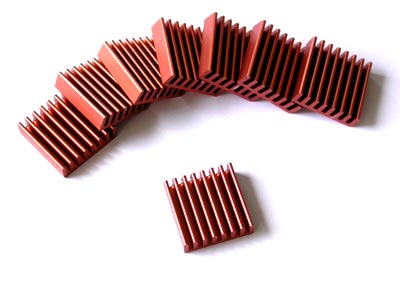 The 8 included memory heatsinks
The ICEBERQ comes with a large compatibility list, that includes almost all the current NVidia and ATI cards.
Compatible Cards

ATI Radeon


9000/9000 PRO
9200/9200 PRO
9500/9550
9600/9600 SE/PRO/XT
9700/9700 PRO
9800 PRO/9800 XT
RX300/600/800

NVIDIA

GeForce3 Ti 200/500
GeForce4 MX 420/440/460
GeForce4 MX 440 SE/440 8X
GeForce4 Ti 4200/4200 8X
GeForce4 Ti 4400/4600/4800
GeForce FX 5200/5500/5600/5700L
GeForce FX 5600 ULTRA/5700/5700 ULTRA
GeForce FX 5900/5900 XT/ULTRA
GeForce 6600
GeForce 6800/6800 GT/6800 ULTRA
- Specifications
| | |
| --- | --- |
| Model: | CCB-A5C |
| Dimension: | 110 x 88.7 x 31.6 mm |
| Fan size: | 60 x 60 x 12mm |
| Fan Speed: | 2500 RPM |
| Rated Voltage: | DC 12V |
| Rated Current: | 0.15 A |
| Power Consumption: | 1.8 W |
| Weight: | 320 g |
| Bearing Type: | Ball Bearing |
- Accessories
As with most all-in-one solutions, the ICEBERQ 5 includes a lot of accessories to ensure compatibility with all the supported cards.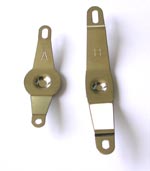 Two metal clips, type A and B, with insulation tape at the back will be used to secure the fansink to the card.
Accessories
A & B metal clips
8 thermal tape pieces
2 gold stand offs
2 metal screws
1 molex power adaptor