4. Benchmarks
Now lets move on to the performance tests with the ION 2 460W PSU and see how it fairs.
We used the Speedfan utility in order to check the voltages for our system with the Rocketeer installed. We took two measurements, one at idle and one while running the 3DMark2005 benchmark.
The PSU Specs...

The following table lists the industry wide specifications for DC Output Voltage Regulation.

First off, we started measuring with Asus Probe while in Idle mode, when the PC has finished booting and loaded all drivers.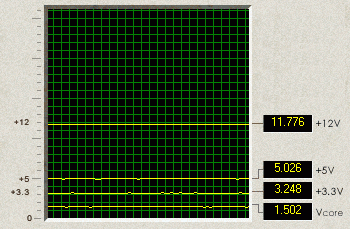 In idle mode...
We then fired up 3DMark05 and took readings with Asus Probe once more...
under 3DMark05
Notice that there are no differences in the readings between the two tests. This indicates a stable performance that the ION 2 ensures. Now let's have a look at the voltage graphs for 3DMark 05.
12V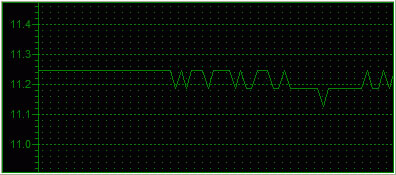 5V
3.3V
VScore
Overall the ION 2 PSU offers stability and safe performance. The 12V rail is a little low, but we did not encounter any crashes or errors during the tests and to date as this review is being completed, no abnormal behaviour has been noticed.