9. Writing Quality Tests - 3T Jitter Tests
Philips DVDR1640P DL Recorder - Page 9
Writing Quality Tests - 3T Jitter Tests
On this page we present the 3T Pit & Land Jitter graphs when using various media burned at the 40X CAV writing speed.
- 3T Pit results
The drive's performance was good with most media used, even if no media managed to stay below the 35nsec Redbook limit. The only media that had very high 3T Pit jitter values was Intenso.
- 3T Land results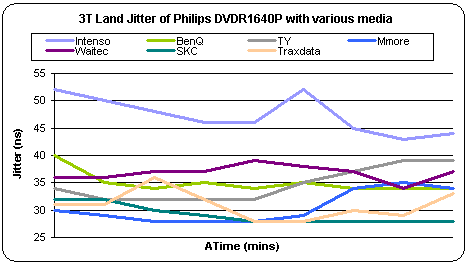 Again, the worst performance came with Intenso media, while with MMore media, we again had very low values.
On the following page we check the C1 and C2 error rates of the same discs, to come up with more specific conclusions.