3. CD error correction tests
This series of tests checks the drive's ability to correct/conceal possible erroneous data after reading artificially scratched / defective audio discs. The test discs used were the ABEX series from ALMEDIO.
Specifically, a software compares two audio files using FFT analysis. The first audio file has been extracted by a normal audio disc. The second one is the result of the extraction of the another disc which hold the same audio track, but it also has specific defects on its surface. The similarity factor of the the two tracks unveils the error correction capabilities of the drive.
The differences between the two compared tracks are translated to a signal (noise) illustrated in the following graphs.
- ABEX TCD-721R
Errors total
Num : 1497544
Errors (Loudness)
Num : 65702
Avg: -72.7 dB(A)
Max :-21.3 dB(A)
Error Muting
Num : 4669
Avg : 1.0 Samples
Max : 9 Samples
Skips
Num : 0
Avg : 0.0 Samples
Max : 0 Samples

Total Test Result
76.1 points (of 100.0 maximum)
An average score for the LiteOn drive. There were no skipped samples and the error correction did not start earlier than it should, but the Error Loudness sometimes surpassed the -60 dB(A) border. Noise above that value can sometimes become audible, depending on the music that surrounds it. Thus, we can say that the drive's error hiding feature is mediocre, at least when it comes to reading heavily scrathceddiscs.
- ABEX TCD-726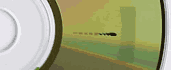 Errors total
Num : 0
Errors (Loudness)
Num : 0
Avg : -174.0 dB(A)
Max : -174.0 dB(A)
Error Muting
Num : 0
Avg : 0.0 Samples
Max : 0 Samples
Skips
Num : 0
Avg : 0.0 Samples
Max : 0 Samples

Total Test Result
100.0 points (of 100.0 maximum)
Pretty good performance here with the specific disc, which has artificial fingerprints and dots on it ssurface.
- CD-Check Audio Test Disc

The CD-Check Test Disc is another tool for evaluating the Sound Reproduction / Error correction capabilities of a CD player. The disc offers a signal combination with disc error patterns to rate the drive's abilities to read music and reproduce it completely. Five tracks on the disc contain a sequence of progressively more difficult tests. These tracks are referred to as Check Level-1 through Check Level-5.
The tracks are reproduced through a software multimedia player (e.g. Windows Media Player). Each level is considered as passed, if the tone is smooth, continuous without interruptions, skipping or looping. The higher the Check Level passed, the more reliable the sound reproduction of the tested drive.
| | | | | | |
| --- | --- | --- | --- | --- | --- |
| Error Level | 1 | 2 | 3 | 4 | 5 |
| LiteOn iHAS422 | 5/5 | 5/5 | 5/5 | 0/5 | 0/5 |
Playback of the last two tracks (4 and 5) produced audible noise and interruptions. The specific disc is has many severe scratches on its surface, even more than the TCD-721R test disc we used in the previous test. Not exactly a good behavior here.