26. About LiteOn SmartErase feature
SmartErase is an advanced technology to erase data on a disc permanently and ensure it will withstand any recovery/ retrieval attempt. The LiteOn iHAS422 is a SmartErase-enabled drive giving you the oppportunity to safely erase your data from CD/DVD media and be confident that no one will be able to retrieve them.
SmartErase supports the DVD±R, DVD±R DL and CD-R media formats, and is included in the Nero 7 Essentials kit that you will find bundled with the drive.
Just insert your disc into the drive, and you are a few clicks away from erasing your data. Fire up Nero StartSmart Essentials, and go to Extras->SmartErase.
The main menu of the SmartErase application appears, as in the screenshot below: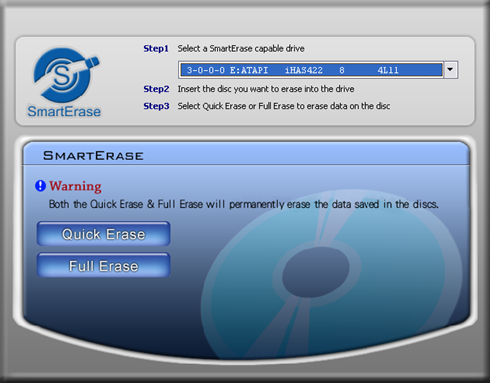 Here we can see that we have the option to select from two erase modes. In the first one (Quick Erase) only the Lead In area of the disc is erased, leaving some (minimum) chances that you can recover your files later using some good recovering application. The second one, (Full Erase), the whole surface of the disc is erased, and no chances of recovering the data are left. The disc is then useless, and inserting it into the drive will just make your PC freeze until the drive realizes that you have inserted an invalid media type.
In our test, we clicked Full Erase, and the process started. A few minutes later, SmartErase had finished its job, giving us back a completely erased disc, which of course cannot be used in the future to further write data to, or read from.