Gainward Rampage700 2048MB GS
1. Features
Gainward has released a high-end overclockable graphics card based on AMD's RV770 GPU, the 4870 X2 series. This is probably the most expensive and powerful graphics card you can buy right now since it offers 2.4 teraFLOPS of graphics power, 1600 stream processors and has 2 GB of GDDR5 memory on board.
The 4870 X2 graphics card features dual TeraScale graphics engines that work in tandem to deliver high frame rates, putting the power of graphics 'supercomputing' in the hands of extreme gamers. The card also dynamically conserves energy at idle or when demand is low. ATI CrossFireX technology with quad GPU support in dual mode offers even more processing power for demanding gamers.
Key Features
2 GB of GDDR5 memory
2.4 teraFLOPS of GPU power
DirectX 10.1
1600 stream processing units
2 x 256-bit memory interface
24x custom filter anti-aliasing (CFAA) and high performance anisotropic filtering
Dual mode ATI CrossFireX multi-GPU support for highly scalable performance
PCI Express 2.0 support
Dynamic geometry acceleration
Game physics processing capability
ATI Avivo HD video and display technology
Unified Video Decoder 2 (UVD 2) for Blu-ray and HD Video
Accelerated Video Transcoding (AVT)
DVD Upscaling
Dynamic Contrast
Built-in HDMI with 7.1 surround sound support
Integrated DisplayPort
Dynamic power management with ATI PowerPlay technology
The Gainward Rampage700 2GB GS is an "improved" version of the HD4870 X2 offering increased core/memory clocks that should give an additional performance boost. Gainward calls it "the fastest graphics card ever" and we have not many reasons not to believe it. With all these in mind, our expectations from this card are very high even in demanding game titles such as Crysis.
The specifications of the card indicate that both the core/memory frequencies are set 50MHz higher than the "stock" 4870X2 versions. Gainward has also added many outputs on the board including a DisplayPort, DVI (Dual-link DVI, support up to 2560x1600), HDMI and VGA (D-sub 15) connectors, with the HDMI capable to output content at full high-definition (1080p).
- Retail package
The Gainward Rampage700 2GB GS Golden Sample retails for ~€530, making it a product for enthusiasts and hard-core gamers.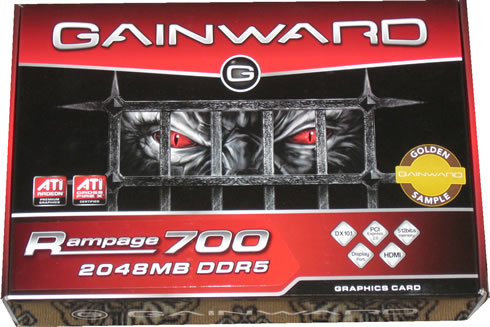 Inside the box everything is well-packaged and secured. We find a printed manual, a drivers disc, a molex-to-pci-e adapter, a DVI-to-HDMI adapter and a CrossfireX connector, in case you wish to add another HD4870 X2 graphics card.
The Gainward Rampage700 2048MB GS is equipped with two 80mm fans, that cover the massive heatsinks. Notice that the height of the graphics card enough to occupy at least three empty slots at the back side of your PC case.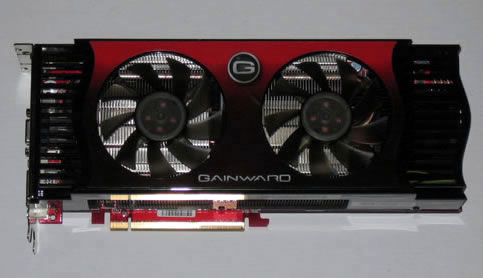 The other side of the card is covered by a big plate that used to dissipate the produced heat. A big warning sticker suggests you not to touch the cards' hot surface after some time of operation.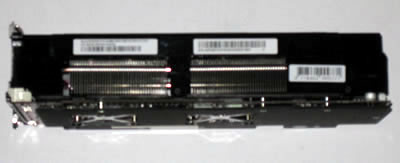 The available ports include a D-Sub 15, a DVI-D, an HDMI, and finally DisplayPort :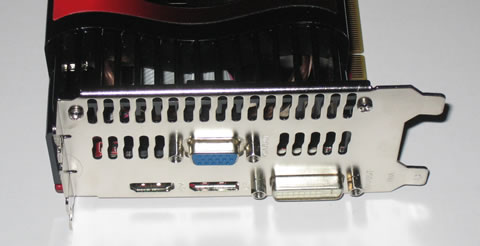 ATI CrossFire X is possible by using the corresponding slots at the top of the card.
The Gainward Rampage700 2GB GS requires at least 6-pinpower jacks to work properly. In fact it needs one 8-pin and one 6-pin cable. In case your power supply doe not have such cables, the included adapter do the job. In addition, make sure that you have at least a 600Watt PSU before buying such an energy hungry graphics card.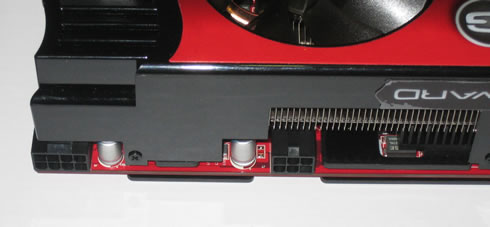 For our tests, we used the ATI Catalyst drivers (8.11). In the meantime, ATI released the latest pack of drivers (8.12) that was also installed to confirm and update the test results where it was necessary.
The core of each GPU runs at 750MHz and the the memory at 950MHz.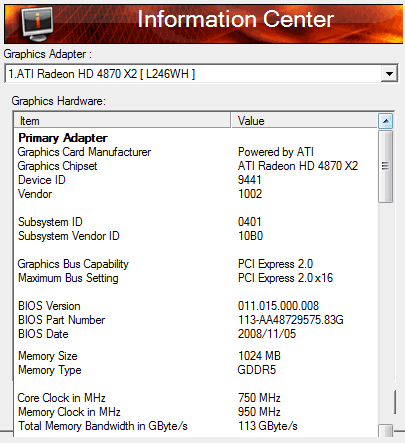 GPU-Z provides us with more information about the Gainward Rampage700 2048MB GS series:
By default, the fan speed runs at 34% when the the GPU temperature is around 57 degrees Celsius. Note that the AMD Overdrive utility allows you to manually set the fan speed
GPU-Z give us more details about the temperatures and voltages: