AOpen XCcube EZ65-II Mini Barebone System
6. Bios & overclocking
AOpen XCcube EZ65-II Mini Barebone System - Page 6
Bios & overclocking
The XCcube power-on screen.
The Phonix-AwardBIOS BIOS main screen.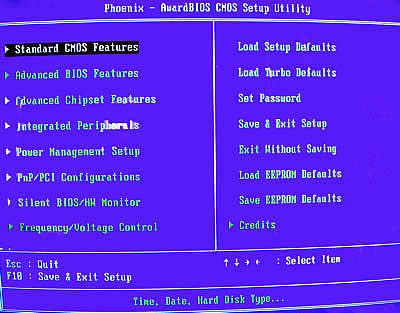 The Silent Bios/HW Monitor screen.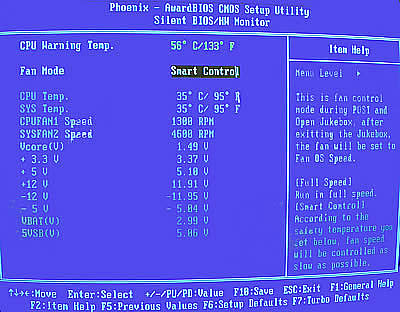 In the above screenshot, we can see the various values for important system parameters, such as CPU and system temperatures, rotation speeds for the fans and onboard voltages. You can also configure how the CPU and system fans behave depending on corresponding temperatures. The first option, "CPU Warning Temp." sets the temperature the CPU has to reach before the motherboard sounds an alarm to let the user know the CPU is overheating. The value can range from 50° to 80° Celsius.
The second option, "Fan Control", changes the behavior of the two fans with regard to their rotation speed (CPU and System fan). The possible settings here are "Smart Control" and "Full Speed". In the first mode, the bios increases/decreases the fan's rotational speed in relation to the corresponding temperature. In this manner, each fan rotates as fast as it is necessary and does not operate at full speed all the time, resulting in less noise being produced. In "Full Speed" mode, the fans always rotate at maximum speed, thus providing maximum cooling effect, and of course producing more noise. While this might be considered by many the safest option, bear in mind that the built-in fan for the heat-sink produces a fair amount of noise at full speed, and the XCcube is far from being silent.
This is the Frequency/Voltage Control screen, from where we can overclock the XCcube.
In this screen, we can change the CPUs FSB frequency and thus, overclock the CPU to a higher frequency. DDR frequency can be selected as well, so you can easily select 1:1 or different RAM/FSB ratios to achieve better overclocking results. The BIOS locks the AGP/PCI bus frequencies, so these always stay at their default speed of 66 and 33 Mhz, respectively. We can also tweak the CPU voltage, the AGP and the DDR voltage settings to push the system's overclocking abilities.
To our surprise, without much effort, we managed to bump up the FSB to 230 MHz with 1:1 DDR/FSB ratio, thus clocking our test system's Intel Pentium 4 from 2.8GHz up to 3.22GHz. That is a 15% improvement, and with some tweaking it will definitely get much higher. The system was quite stable to work with, and we didn't experience any crashes or lockups during our tests. We were also very pleased to see something similar to PAT (Performance Acceleration Technology) in the BIOS Setup, called Performance Boost Engine. To be honest, we expected the XCcube to be able to overclock only a little, and perhaps not at all, but this was a pleasant surprise and a big plus for the XCcube.