AOpen XCcube EZ65-II Mini Barebone System
7. Cooling
AOpen XCcube EZ65-II Mini Barebone System - Page 7
Cooling
Keeping the system cool is probably one of the most difficult problems a designer of an SFF system has to face. Due to the small size, components have to coexist in a very confined space and the various cables and any extra boards can make it difficult to design for proper airflow and cooling. Things can be improved by strategically placing fans in the case, but this increases the noise the system produces. And regardless of whether the system is an SFF PC or a full sized PC, nobody wants a noisy box. So especially in the case of the XCube, which is not only destined to occupy for the office desk, but also in our living room, noise is an important issue.
The AOpen EZ65-II uses a standard cooling system with an active CPU cooler, and an 80mm PSU fan. there is also a passive aluminum heatsink that is mounted on the North Bridge chipset.


The CPU heat-sink is made of copper, an improvement over the previous EZ65 model, which only had a copper sole with the rest made of aluminum. While this makes the cooler heavier, copper is a better heat conductor than aluminum. As you can see from the photos, the cooler features a fan on the side, which sucks cool air from the left side of the case, passes through the cooler and sends it to the right side of the case. Also, on both sides of the case there are vent holes that facilitate the airflow. The CPU fan can reach rotational speeds of 6000 RPM and can be quite noisy at full speed, exceeding the acceptable margin of noise for some people. If this annoys you, there is an option in the system's BIOS that allows the system to dynamically control the fan's speed.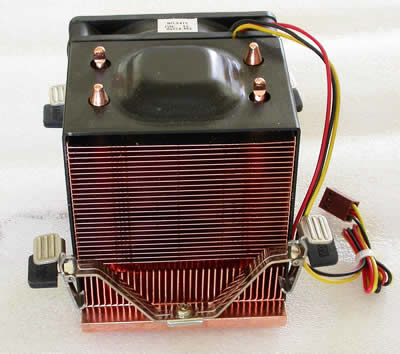 The heat-sink can be very easily mounted/unmounted without requiring a lot of force to be applied or the need for special tools to be used. There are four clips at the four corners of the heat-sink that release when pushed.