AOpen XCcube EZ65-II Mini Barebone System
5. Motherboard
AOpen XCcube EZ65-II Mini Barebone System - Page 5
Motherboard
For this class of mini PCs, new types of motherboards have to be developed. These motherboards have to be somewhat smaller in footprint in order to fit in the smaller cases. This is quite challenging for the manufacturers of these systems, since they have to minimize the space and at the same time try to preserve as many of the features as possible.
The motherboard that is used inside the XCcube EZ65-II is the UX4SG-1394-II, which is specially made by AOpen for the XCube.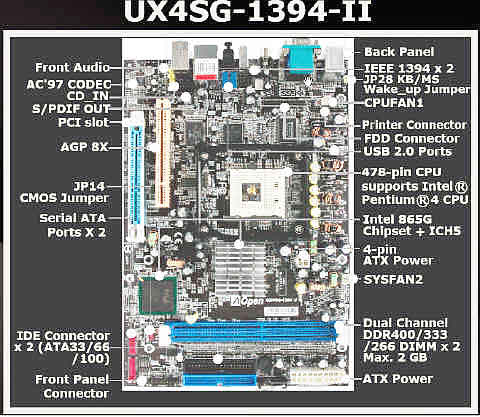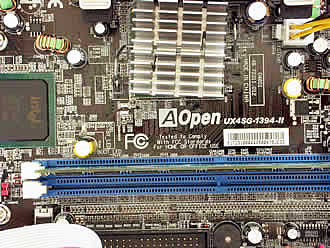 The motherboard features Intel's 865G chipset, which is the standard 865 chipset with an integrated graphics adapter. It supports socket 478 processors with Northwood or Prescott processors at 400/533/800 FSB, with or without Hyperthreading. For more information, please consult AOpen's list of supported processors.
The motherboard also features two DIMM slots for memory expansion. DDR 266/333/400 DRAM modules are supported, and dual channel memory configuration is supported as well. Thus, the maximum amount of memory the system can handle is 2GB.
Due to its small size, the XCcube cannot offer many upgrade/expansion options. Nevertheless, the motherboard features one PCI expansion slot, and one AGP 8x port. While they might seem inadequate, bear in mind that the board already offers many things on board, such as Firewire, Gigabit LAN, integrated graphics adapter, and integrated sound card with coaxial and SPDIF outputs. The integrated graphics adapter is the Intel Extreme Graphics 2, but its 3D performance is far from being "extreme" as its name suggests.
The ICH5 chip that is used as a SouthBridge supports two ATA-100 channels, two Serial ATA channels (no RAID support), and 6 USB 2.0 ports. On the case, only four of the USB connectors are available, two at the front and two at the back. The remaining two are offered via onboard connectors.
The remaining functionality on the board is offered through the other chips. The board features Gigabit Ethernet using a Broadcom PCI controller. It also features a Firewire controller from Agere that offers 3 ports (two at the front and one at the back). The 5.1 channel sound is offered by an AC'97 codec made by Realtek.