3. HDD Enclosure Installation
AOpen MVP Player - Page 3
HDD Enclosure Installation
All you have to do to install the device is just plug it in, and you are ready to go! We used several multimedia cards along with a Seagate Momentus 40GB 2.5" hard disk drive.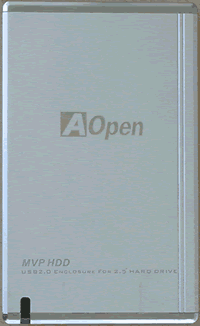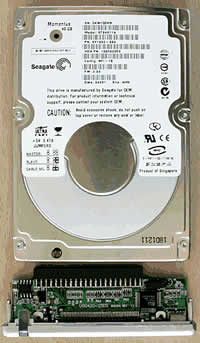 Unfortunately, no hard disk is included in the retail package, so you have to purchase it seperately. The image above shows the HDD enclosure that is provided by AOpen. The small led appears on the bottom left of the enclosure, lights up green when the device is idle and red when data is being transfered.


On the back panel of the enclosure, you can see the USB2.0 connector and the MVP connector. As explained earlier, there is no need for any additional power connection since the USB ports provide all the required power.
We had no problem installing this drive on our test PC running Microsoft Windows XP Pro operating system. However, there is a driver installation CD included in the package for older operating systems.
We formatted the drive for different file systems. NTFS file system discs cannot be read by the MVP player, indicating that the disc is empty, even if the disc is nearly full. Only FAT and FAT32 file systems are readable. The device supports long filenames.