10. Conclusions
AOpen MVP Player - Page 10
Conclusions
The AOpen MVP player is indeed a universal multimedia playback device. The question that still remains is will this device replace standard DVD players? And the answer is rather simple. This type of device is not yet able to replace stand-alone DVD players. But that was never the purpose of the MVP player. Simple DVD video menu functions are not supported, there is no option for 16:9 and 4:3 screen viewing, and last but not least, stand-alone DVD players offer better sound quality than the basic level stereo channel sound the MVP has to offer.
However, AOpen offers a versatile device that can be used as a simple DivX/XviD player, or even as a simple DVD player. Music playback sounds great with a wide range of supported quality formats, especially when equalizer presets are used.
The external HDD enclosure can also be used to convert a 2.5" hard disk into an external USB2.0 storage drive. The remote control makes things even easier, with a rather long range. Unfortunately, PC connectivity is something that we all missed, since the MVP player cannot be used as a card reader.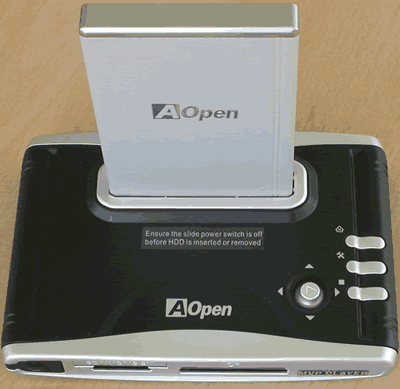 The device is available in two different colors, the black coloured device that we received, and a red coloured device. The retail package has everything a user will need to get started, but the hard disk drive is not included since this whould raise the price.
- The Good
Very easy to use
Full retail package that has anything users need to get started
Wide range of supported Video/Audio formats
Light weight and very small
Supports all popular media cards (SM, SD, MMC, MS, MS PRO, CF I/II/IBM Micro Drive)
S-Video/Composite and VGA support
JPEG slide show with background MP3 music
Supports

rotate, zoom in photo, photo/video thumbnail, auto slide show

Can be fully programmeed with the provided remote control
- The Bad
No USB2.0 connectivity
Does not support WAV and OGG audio files
Cannot handle DVD video menu
Does not support DivX/XviD subtitles
No hardware support for Dolby Surround and 5.1 sound
Cannot handle video streams with Quarter Pixel flags (QPEL)
No support of anamorphic 16:9 widescreen format media