6. File Mode
AOpen MVP Player - Page 6
File Mode
When we turned the device on, a welcome screen prompts us to choose which storage media to read.
After selecting the appropriate media, the device's introductory screen prompts us to choose which mode to use.
The MVP player offers a very useful file mode function. The player is used as a normal file explorer, just like your PC's explorer. This function can be used with either a hard disk or multimedia card.
The handy explorer uses several icons to distinguish the supported files, such as VCD, mp3 e.t.c.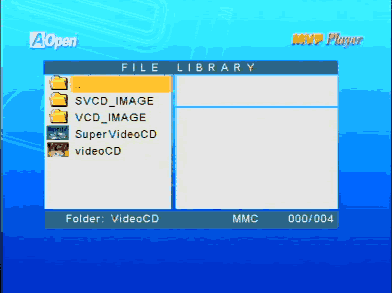 File mode will also be discussed later on in this review where we investigate the video preview function the file library offers.