Zidoo Z9S 4K Media Player review
8. Final words
Powered by the Realtek RTD1296 SoC, the Zidoo Z9s player has an edge over the brand's previous products, in terms of quality video and audio playback performance. The video playback quality is almost perfect in terms of image detail.
This player is compatible with almost all the media files currently available,, including even most demanding VP9 files. Its 2.0 HDMI output to deliver HDR content to your HDR equipted TV. The HD audio passthrough abilities are also working well, even with Dolby Atmos or DTS-X media files.
This device also has extensive connectivity options which include its two external SATA 3 ports and USB 3.0 connectors that allow us to connect external drives with high speeds, something necessary for high bitrate files.
In addition to the local connections the ZIDOO Z9S offers fast eMMC memory, a Gigabit Ethernet port and the WiFi ac wireless network adapter. These gives good transfer rates with a good range of coverage . But in other hand we do not have DRM certificates for streaming services, there is no hardware support for the VP9 P2 video codec and we do not have Google Play to change the Kodi player yet.
In terms of design, the use of aluminum instead of plastic in the player's enclosure is also appreciated, adding style and a more sturdy look and feel..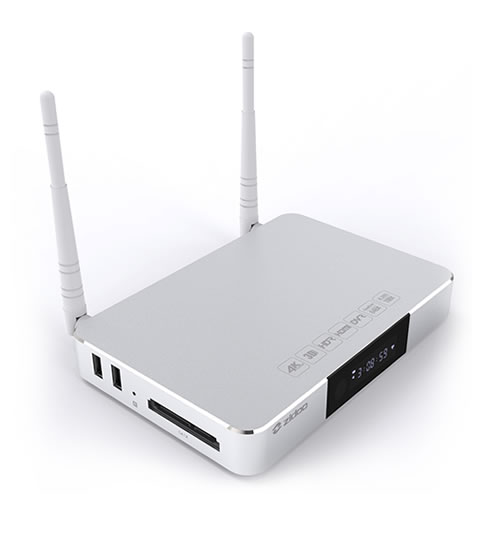 The Home Theater app automatically scans your local or network libraries and downloads covers and information. In our tests the app worked well and even when it missed a movie title, we could easily fixed that manually.
The player can also automatically download subtitiles (probably from opensubtitles.org), and you can change their color, size, encoding, etc. In case you have a 3D enabled TV, the Zidoo Z9s will easily output 3D content. In addition, the playersupports HDR to SDR conversion, a function that has been improved compared to the previous Zidoo X9s player.
After playing with the new Zidoo Z9s player, we can safely say that it is an overall well-balanced product designed for the A/V enthousiasts, provied that it would cost you $168,00. At that price range you can find other madia player solutions such as the very popular and succesfull Nvidia Shield, which also comes with a gamepad.
But if you can afford it, the Zidoo Z9s is an excellent performer, designed for those seeking to have the latest and greatest in the madia player market.
Positive
* Good design and alluminum alloy case
* Supports 4K H.264, H.265 and VP9 playback
* Many connection options (2x USB2.0, 2x USB3.0, 2x eSATA)
* Simple GUI and great stock file manager with support for writing to external devices
* Powerful subtitle function and automatic subtitle download support
* HomeTheater app automatically scans and categorizes films and TV series
* Supports HDMI2.0 output, up to 4K @ 60Hz with HDR10 support & HDMI-CEC function
* 802.11ac, Bluetooth 4.2 and 1Gbit LAN
* Based at Android 7.1.1 transforms your TV to a fully android box
* Supports Auto frame rate output function (24Hz) even with the default video player
* Quality in audio and video reproduction (2K, 4K, HD)
* Outputs DTS-HD MA (7.1) and Dolby Digital 7.1 channels with default video player or ZDMC (KODI)
* Front LED can be turned off
* Backlit, programmable remote control
* HDR->SDR conversion works very well


Negative
- High price
- Wifi antennas are not dettachable
- HDMI-in function doesn't support recording (Update: HDMI-IN recording supported with new firmwareV1.2.22 or higher)
- 4K Youtube playback is not perfect
- HD (and 4K) Netflix playback is not possible due to lack of DRM licences
- Google Apps are not pre-installed (fixable)
- ZDMC App is not pre-installed (fixable)
- Ultra HD Blu-Ray menus navigation sometime feel slow
- No microSDHC/SDXC slot
- Dolby Vision is not supported