Toshiba ExceriaPro N502 256GB SDXC UHS-II review
The Toshiba EXCERIA Series has been popular among photographers and the latest N502 SD card, being the company's fastest model, will be an interesting option for professional photographers and 'high action' sports enthusiasts.
Availabe in capacities of up to 256GB, the N502 is one of only a few SD cards, allows you storing your videos in 8K. So you have as twice as many horizontal and twice as many vertical pixels as 4K.
Equivalent to VideoSpeed Class90, the N502 provides a minimum data transfer speed of 90 MB/s. But actually it provides a much higher performance for photography and video production. It is rated for a read speed of 270MB/s and write speed of 260MB/s.
The card uses the UHS-II interface, which changes from the eight pin interface to an additional set of pins of low voltage (0.4 V pp). Using this additional row of connectors raises the data transfer rate.
In addition, N502 cards were designed for outdoor video recording and photography, so Toshiba made sure they will perform under extreme conditions. That results in safe operating temperatures from -20 ℃ to 85℃ (without condensation). They are also x-ray proof to protect your memories at the airport security check.
The card is backed by a five-year limited standard warranty.
Specifications
Capacity: 32 GB, 64GB, 128GB, 256GB
Colours: Black
Interface: UHS II
UHS Speed Class

Video Speed Class 90
UHS Speed Class 3
SD Speed Class 10

Speed Class: VideoSpeedClass 90, UHS Speed Class 3
Max read speed: 270 MB/s
Max write speed: 260 MB/s
X-ray proof: ISO7816-1 equivalent
Dimensions: 32.0 mm (L) × 24.0 mm (W) × 2.1 mm (H)
Weight: Approx. 2g
Operating Temperature: -25 to 85℃ (without condensation)
Service & Support: 5 Years Warranty
Let's have a look at the 256GB vesion of the N502 SD card we have in our hands. Below you see the package and some pictures of the card. We should note that a lisence for the LC Technology Data Recovery software is coming with the card, waiting for you to download it . However, it's limited to one year of use.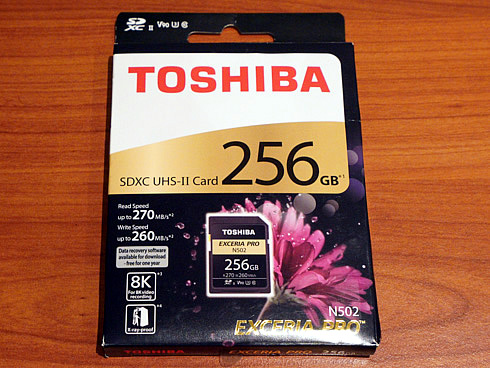 The re is nothing uncommon with the card's design, as it has the typical size and weight of an SD card. A yellow slider on the left side of the card can be used to prevent accidental overwrites.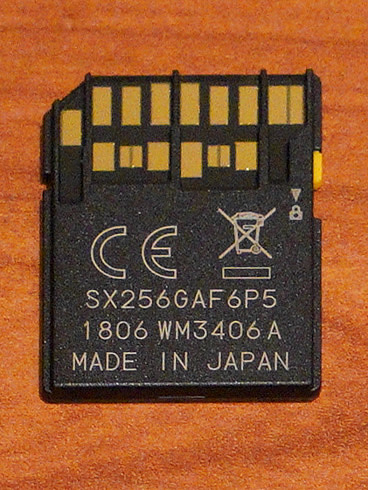 Using an USB adapter we plugged the SD card into a PC and below you see that the available capacity is 238GB, following an exFAT format:
Let's run some quick benchmarks. We start with the CrystalDiskMark, using both the older v.3.04 and the latest v6.01 versions:
The new ExceriaPro N502 256GB gave a sequencial read speed of 207.6 MB/s, which is lower than the maximum 270 MB/s figure quoted by Toshiba. In the table below we have included the results of some smaller (64GB) SD cards, and it looks like the N502 256GB is not the featest in the chart, staying pretty close to the M501 64GB model.
CrystalDiskMark Read

 
Toshiba ExceriaPro N502 256GB
Toshiba ExceriaPro M501 64GB
Toshiba ExceriaPro N101 64GB
Seq
207.6 MB/s
209.2 MB/s
213.2 MB/s
512K
159.6 MB/s
163.2 MB/s
196.4 MB/s
Seq Q32T1
192.8 MB/s
192.8 MB/s
194.2 MB/s
4K
7.742 MB/s
7.527 MB/s
12.28 MB/s

4K Q32T1

13.23 MB/s
10.74 MB/s
16.76 MB/s
However, the N502 256GB showed its potential in the write tests, where the card performed faster hitting the 225.8 MB/s in the sequential write test and staying fast across the various write modes, as you see below:
CrystalDiskMark Write

 
Toshiba ExceriaPro N502 256GB
Toshiba ExceriaPro M501 64GB
Toshiba ExceriaPro N101 64GB
Seq
225.8 MB/s
142.6 MB/s
214 MB/s
512K
144.6 MB/s
96.42 MB/s
30.03 MB/s
Seq Q32T1
205.5 MB/s
138.5 MB/s
186.9 MB/s
4K
1.515 MB/s
1.754 MB/s
1.131 MB/s

4K Q32T1

1.684 MB/s
1.940 MB/s
1.205 MB/s
The ATTO Disc benchmark confirmed the findings of the previous benchmarks, with the N502 256GB to hit the 224 MB/s in the write and 216 MB/s in the read test, with files larger than 512MB: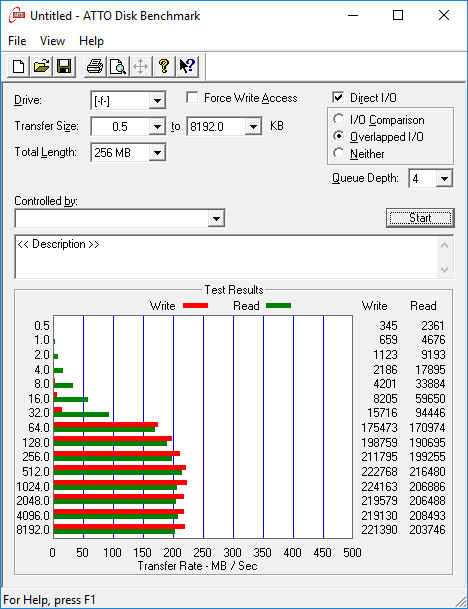 Toshiba's flagship N502 256GB SD card did not reach its full speeds in our tests, but had a generally good performance that should allow for enough bandwidth for even the most data-hungry video codecs. It proved very fast in the sequential writes, which is a welcome result when it comes to writing large, 4K /8K video footage. The question is whether you own a video-capable camera that uses SD cards and shoot at a bitrate that would justify buying this card. The UHS-II cards have literally taken the market by surprise with their outstanding performances, and not a lot of cameras support this standard.
The 256GB version of the SD card will cost you about 330 Euros ($370). Although the price will put it out of reach for most people, it is competitive and pro's will realize that the currenty available alternatives at the same price range are slower.