12. Installing a VGA card
The Shuttle SD32G2 offers a PCI-e slot. You can install a "standard" VGA card in order to improve the performance of the box, especially for 3D games. Due to the small dimensions, you can only install small sized VGA cards, like the 7600GT or 7900GS series. For our tests, we used MSI's 7600GT Silent VGA card. Our goal was to see how easy it is to install a VGA card and, if the PSU can handle powering up two HDD and one VGA card at the same time.
Installing the card was very easy, just remove the two screws on the back and the metal clip. Be careful when inserting the card. The MSI 7600GT doesn't need any external power, its powered from the PCI-e slot.
A top view of the box with the MSI 7600GT series installed. As you can see, the passive cooling comes close to the CPU area, adding more "heat" to the whole area.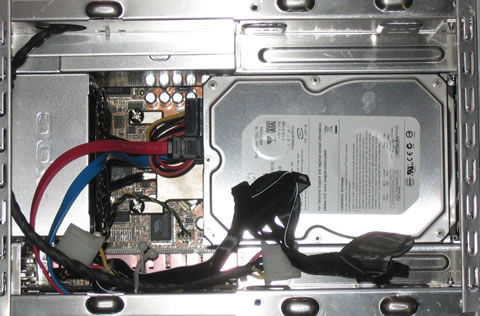 We closed the case and fired up 3D Mark06. Using Everest Ultimate Edition, we monitored the temperatures of the CPU and GPU. We plotted the temperature graphs, shown below:
The CPU temperature starts from 55°C tops at 64°C. Without the VGA card installed it starts at 44°C and tops at 55°C. This means an increase of almost 10°C with the VGA card installed. Below is a table with all temperatures as reported from Everest Ultimate Edition:
One last point. It seems the case can be easily "damaged". We are still trying to find the small chunk from our case...