1. Introduction
- Introduction
OCZ Technology is one of the largest and best known memory manufacturers. OCZ has introduced many innovative products and recently it announced a new series of memory products with a special design, aimed mostly at overclockers and computer enthusiasts. The new design offers better heat dissipation for memory modules allowing for higher memory speeds and hence overclocking capabilities. What can you expect from the new OCZ PC2-9200 FlexXLC series?
- OCZ DDR2 PC2-9200 FlexXLC Edition
The OCZ PC2-9200 comes with the innovative FlexXLC technology, which is considerably the most ground-breaking and unique memory product existing today. These new modules feature the new OCZ FlexXLC (Xtreme Liquid Convention) heatsink that delivers superior heat dissipation via a hybrid copper and aluminum design that allows for a choice between passive air or water cooling.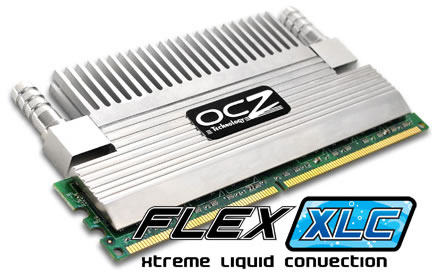 Among the thermal management advantages, the PC2-9200 FlexXLC also implements a new 8-layer PCB. This facilitates less "crosstalk," consequently enhancing the module's total signal integrity.
The PC2-9200 FlexXLC modules are optimized for the latest cutting edge platforms and will be available in 2GB (2x1024MB) dual channel kits. As part of OCZ's line-up of premium memory, the PC2-9200 series is backed by a Lifetime Warranty and industry-leading technical support. Harnessing the achievement of leading-edge speed, high performance heat dissipation, and enhanced signal integrity, the unparalleled design of the OCZ PC2-9200 FlexXLC is a complete, all-encompassing solution certain to set a new benchmark in enthusiast memory.
- Special features
The new OCZ FlexXLC (Xtreme Liquid Convention) heatsink delivers superior heat dissipation via the integrated hybrid copper and aluminum liquid injection system. The FlexXLC module was engineered with this unique "flexible" design to give enthusiasts the unparalleled option to run the modules passively or water cooled. The concurrent use of both technologies (water-cooling) promotes maximum heat dissipation and pushes thermal management of memory modules one step further to keep up with the ever-increasing frequency demands. FlexXLC modules seamlessly co-migrate with any system upgrade to liquid cooling.
The PC2-9200 series is engineered with an 8-layer PCB with thermally conductive power and ground planes to guide heat away from the ICs and maintain the necessary signal integrity for high-end modules.
OCZ EVP (Extended Voltage Protection) is a feature that allows performance enthusiasts to use a VDIMM of 2.35V without invalidating their OCZ Lifetime Warranty.
EPP (Enhanced Performance Profiles) setting is rated at 1142MHz
- Full specifications
1150MHz DDR2
CL 5-5-5-18
Available in 2GB (2x1024) Dual Channel Kits - OCZ2FX11502GK
Unbuffered
OCZ Lifetime Warranty
2.3 Volts
240 Pin DIMM
2 x 1/4" ID (inner diameter) barbs