3. The Package
The Shuttle SD32G2 costs around €325 (+shipping) as found at several online stores.
The unit is well packaged and secure, no problems during transporting:
The retail package includes:
The SD32G2 case itself
1x Floppy cable
1x CD-ROM with 32bit drivers
1x CD-ROM with 64bit drivers
1x printed Multi-language user guide
The retail box doesn't include any SATA or IDE cables, since they are pre-installed. However, there is only one SATA cable installed, so if you wish to install another SATA device, you have to borrow it from somewhere else...
Let's now examine the box. The box is light, but that's without any HDD or optical drives installed, 3.2kg. The box feels solid and is made of aluminum in a silver color.
On the front, there are several inputs as well as the on/off and reset buttons. In order to install a Floppy or an optical storage device, you have to remove the front. However, the screws are not the usual Philips but hex allen screws. Many users may not have a set of allen keys in their tool box, so this could be an issue. We believe that Shuttle should have used standard Philips screws or at least included a key in the retail box.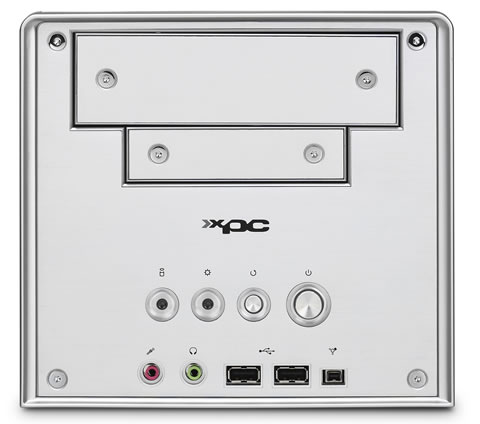 Here are the front panel inputs in greater detail:
There's a microphone input, a headphone (Line-out), 2x USB 2.0, 1x Firewire (Mini 4 pin connector), 1x Power and 1x Reset buttons. We almost forgot to mention that there are two LEDs, intense blue electric colour, rather annoying, especially in total darkness:
The orange coloured led indicates HDD activity: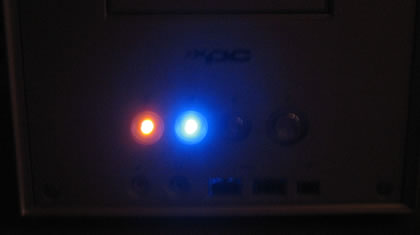 On the back, we find the usual array of inputs/outputs. Screws can be loosened by hand, which is very good. There are two expansion slots for PCI and PCI-e cards.
Zooming in on the back panel, we can find:
VGA connector (D-Sub 15)
4x USB 2.0
1x GigaBit LAN (RJ45)
1x Firewire (6 pin)
1x PS/2 for mouse and 1x keyboard
1x Serial port (COM)
8-ch Audio line-out (2x rear/front, bass/center, surround/back)\ Audio Line-in
1x CMOS button
optional Wireless LAN module (PN18)
optional parallel port (PC8/PC15)
optional optical SPDIF input/output ports (PC17)
So what's missing from this box? Well, I would like to have at least a DVI or HDMI output and WiFi on board. For the WiFi, Shuttle offers an extension module (PN18) (or you can simply use a USB WiFi stick), while there's no option for DVI. So you cannot really use this box as a media center, unless you install a PCI-E card with such an output.