9. Writing Quality Tests - 3T Jitter Tests
Pioneer DVR-108 DL Recorder - Page 9
Writing Quality Tests - 3T Jitter Tests
In this page we present the 3T Pit & Land Jitter graphs when using various media burned at 32X Z-CLV writing speed.
- 3T Pit results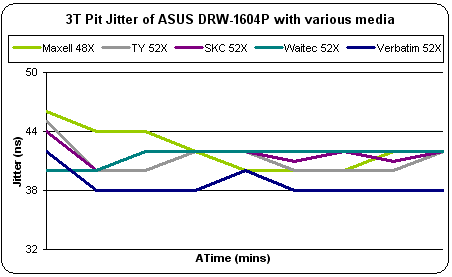 Levels with all media brands is rather high, but best performance came with Verbatim 52X CD-R media. Below are the average 3T Pit Jitter of the various used media:
- 3T Land results
The average 3T Land results are high, with the best results coming again with Verbatim media.