Interview with BTC's Business Development Manager, Mr Kevin Wu
Interview with Kevin Wu, Business Development Manager of BTC
Read our latest interview, this time with BTC's Business Development Manager, Mr Kevin Wu. A most revealing interview which deals with BTC's success story and its commitment to optical storage, including emerging markets and technologies.
Can you give us a little background regarding BTC and your involvement with the company.
Behavior Tech Computer Corporation (BTC) was established as a keyboard manufacturer in 1982 in Taipei, Taiwan. With 2002 revenues topping the US$320M mark, BTC is now a multi-national, world class optical storage and input device manufacturer with factories in Taiwan, China and Korea and branch offices and logistics support centers in Asia, Europe and the USA. BTC directly employs upwards of 5000 people worldwide.
Starting out as a keyboard manufacturer and later moving on to the technologically far more challenging optical drive business, BTC over the years has laid a solid foundation of experience in developing and producing high quality products based on incessant technological innovation and continuous pursuit of excellence. A long list of Product of Excellence awards in Taiwan and numerous awards bestowed on BTC's products over the years by international PC industry media companies are testimony to BTC's success in becoming a leader in the world of opto-electronic products. On top of that, BTC has managed to enter an elite group of companies whose quality and manufacturing capability can pass the high standards of the world's first tier PC OEMs, and has thus succeeded in becoming one of the world's top five CD-ROM and keyboard manufacturer.
BTC not only has a highly efficient, high capacity production capability with over 50.000 square meters of production floor space in its China factories alone, but also boasts an innovative Research & Development (R&D) team of about 200 highly educated people whose in-house developments are granted over 150 patents per year. These patents may cover any part of the development or production process, such as mechanical design, interface design, electronic circuit design or production technology.
Complementing its development and manufacturing skills, BTC is also able to provide extensive logistics and technical support to customers all around the world through its strategically located warehouses, logistic hubs and branch offices.
How does BTC differ from the competition?
As BTC is one of world's top five optical storage devices and input devices manufacturer, BTC differs from the competition as described below.
Complete Manufacturing Experience
Various Patents
Better price/performance, specs. ratio (more "bang for the buck")
Creativity and Innovation (for example DDS products)
Complete product line including internal, external, half height, slimsize,etc. models
Due to the advantages described above, BTC has managed to stand its ground in the optical field for over 20 years. In this highly competitive era, BTC not only continues to provide excellent products, but also invests in green technologies to protect the environment with for example lead-free manufacturing processes to create a win-win situation for both business and environment.
What are BTC's strengths and weaknesses?
Strengths
Continuous Innovation
Experienced R&D Team
Excellent Manufacturing Capability (both quality wise and quantity wise)
Top Quality Products
Cost-Effective Production
Complete product spectrum
Extensive global logistics
Weaknesses
Lack of OPU (main component) Manufacturing
Lack of Chipset Manufacturing
Low Ordnance Bench Mark
Low brand recognition on the end user side
What were your plans for this current year, and have they been fulfilled to date?
In 2004 we focused on expanding the number of products in order to be able to provide a more complete spectrum of optical products. For example, our DDS products combined the popular card reader functions with standard drive capabilities and slim-line and external models have also been added. Also separate modules for use in DVD players and/or recorders were added to the product line. Furthermore, we continued to be at the forefront of the market's development with our DVD writer products. After the successful introductions of 4X and later 8X models, we are currently releasing our latest 16X, double layer model. From the beginning, BTC has fully supported a DUAL format approach, which gives the end user the ultimate choice in deciding which media type (+R or –R) to use.
What is your vision and what are your plans for the future of BTC.
Continue on the road that we started. Continue to be at the forefront of market developments with fast DVD writer and possible Blue-ray related products, maintaining our wide spectrum of drive sizes and types (DDS, slim-line, external half size, external slim-line, modules for consumer DVD players/recorders, etc.) and trying to promote the BTC brand name even better.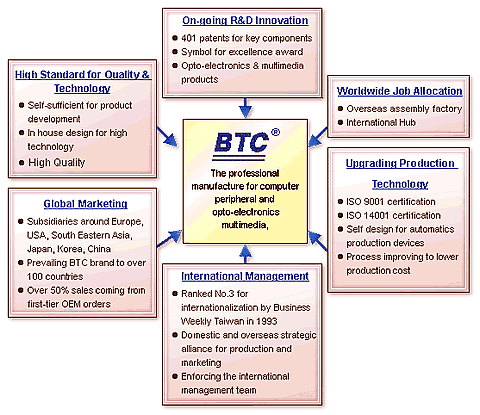 Your opinion on hardware in general (trends, future developments, difficulties).
In general, most hardware manufacturers just follow the same road when developing products and just follow the mainstream without showing much innovation and creativity, putting emphasis on production and sales only. BTC also follows this mainstream road, but also tries to find a way besides the mainstream in trying to come up with creative and innovative products that provide just that extra edge to its products that can make it stand out from the competition. Especially since the general market trend moves more and more towards the realm of consumers, contrary to the traditional division between PC industry products and consumer products, BTC is optimally positioned to take advantage of this move. The BTC slogan, "Behavior drives the future" also emphasizes this. We believe that BTC has the experience and core capabilities of low cost high quality manufacturing on one side and a creative, innovative, experienced research and development team on the other side that will be ideally suited in an industry that is catering to a market of highly diversified and demanding end users.
Apart from optical storage devices, BTC also offers keyboards, mice, digital cameras, even GPRS devices. Will BTC be expanding its line to include other products or will you be concentrating only on your current line.
BTC will focus on the current product lines, but will continue to look around for products that are suitable and relevant when taking BTC's core capabilities into account, like for example 3C products.
Concentrating on optical storage, what do you have planned for the future and where do you believe the market is heading?
Clearly, the market is moving towards ever faster optical writers and higher capacities, which with the introduction of 16X and DVD double layer support in August will reach a ceiling with regards to the DVD standard. Double layer speeds will continue to go up, but there will be no higher speeds above the 16X and the 8.5GB capacity of double layer DVD will also be the maximum. It is to be expected that other drive models, such as combo drives and slim-line, external, etc. models will also gradually move towards these maximum speeds. Meanwhile, the top end of the market will move towards even bigger capacities, probably with Blue-Ray or comparable technology. On the interface side we will see a gradual switching of "normal" IDE towards SATA interfaces for the internal models, while USB2.0 will remain the mainstay for the external products.
With the rise in the DVD format, and with projections forecasting that DVD writers will outsell CD writers, while the CD is going to be with us for quite a while yet, what role will each format play in the future?
It sure is true that the DVD-ROM format is breaking the rules for the writing habit; DVD format has 4.7GB or DL with 8.5GB capacity. DVD is essentially a bigger, faster CD that can hold cinema-like video, better-than-CD audio, still photos, and computer data. In storage point, DVD is almost 7 times more than CD and DVD can store full, high-resolution movies.
However, people are still used to the CD format. Let me make a metaphor. We can say that the CD format is like our main meal and the DVD format is the dessert. CD-ROMs and recordable CDs will probably never disappear since they are cheaper and can be used instead of DVD when the extra capacity isn't needed. Likewise, CD-Audio discs will probably never be replaced by DVD-Video or DVD-Audio discs since CDs are cheap and easy to manufacture. Nevertheless, DVD-ROM drives and recordable DVD drives will eventually replace CD-ROM drives and CD-RW drives in computers. Because DVD-ROM drives can read CD-ROMs, and because DVD recordable drives can write CD-R and CD-RW discs, there is a compatible forward migration path.
So far, BTC hasn't taken sides in the Dual Layer battle, nor has it made any moves towards adopting Blue laser. Does it plan to do so and if so, when?
In the double layer battle, Philips is clearly the leader and the only thing BTC can do is to follow the rules. In our DVD Dual model DRW1016, we already added double layer support as a standard function, because we thought the technology was mature now. Moreover, back to the business, BTC is always concerned about our customers needs and we therefore do not always follow the market trends blindly, but first consult our customers before planning our strategy.
While current optical disc technologies such as the various CD and DVD formats use a red laser to read and write data, the next generation will use a blue laser instead, allowing for higher capacities and faster data throughput. BTC will continue to be at the forefront of the market to serve its customers with relevant products based on that technology.
What regions represent the biggest markets for BTC's optical products at the moment, and which regions do you see as being potentially big?
Europe is the biggest market at this moment. According to our estimates China will take over Europe's no. 1 position to be the biggest market in the near future.
What role do you see China and Europe playing in BTC's development, both for manufacturing and as a markets?
Both China and Europe have a big market, neither of which can be ignored, but China has clearly a more competitive manufacturing environment due to its abundant low-cost resources, particularly labor costs. We believe that the China market is going to broaden the scope in the near future.
How big a role does R&D play?
R&D is essential in maintaining our competitive edge. Without R&D, BTC would be just another manufacturing entity of which there are already so many. Our experienced and innovative R&D experience allows us to differentiate ourselves from the competition and provides the essential ingredients that have made BTC successful and will continue to do so in the future.
Do you design your own circuit boards and write your firmware for your optical drives in-house, and how much of your drives is actually BTC's own design?
Except for the OPU (optical pickup unit) and chipsets, which are purchased, BTC has for years been designing, developing and manufacturing the whole product from circuit board to external housing. That is why we have been able to come this far and that is why the world's first tier PC OEMs are willing to buy from us, because they know we have the capability and experience to control the product from start to finish.
An added cost for any manufacturer is the royalties that must be paid. What are your views on this and what would you like to see change here?
In my opinion, the reasonable way to pay royalty is the percentage of sales amounts. For example, if a manufacturer sells the drives for $100, he needs to pay 1% as a royalty, which is $1. With this rule, both manufacturers and patent-owners get reasonable benefits.