Philips ED16DVDR external
27. Conclusion
Philips ED16DVDR DL Recorder - Page 27
Conclusion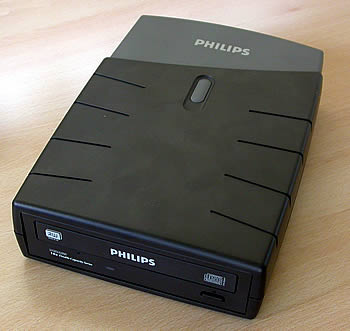 The Philips ED16DVDR gave a decent overall performance in our tests. As a CD reader, it is fast with low seek times and with very good CD error correction. DVD reading capabilities are also good, with good error correction which however could be better and with higher speed.
CD game protection presented minor problems for the drive, which only managed to create working backups up to SafeDisk version 2.8. However the ripping performance with all the games we tried was good. The AudioCD protections on the other hand are better handled by the drive. The CDS200 proved to be more difficult than the Key2Audio for the drive, reporting slow ripping speed and timing errors, but only in the first track.
According to the DAE tests, the Philips ED16DVDR was quite fast and succeeded in receiving a perfect quality score of 100 in Nero's CD Speed Advanced DAE test. The 99min test audio disc was read successfully while for the 90min the drive had to slow down a lot.
The Philips drive is a decent CD recorder at 48X which can be considered as excessive as a writing speed. At this speed, the jitter levels are a little increased in all cases. Bad performance with the one media brand should not stain the overall picture.
The DVD writing qualitiy is good with the minus format while it needs improvement with the plus. We believe that a future firmware will fix this as it should also do with rewritable media. For the DL format however, the media was burned quite reliably and it played on our standalone players, as the booktype for this format is set by default to DVD-ROM instead of DVD+R DL. Even so, we would like to be in a position to have the option to change the booktype setting for both DL and SL media.
The price for the external drive at the time of this review was around €125, which is a reasonable price for such a burner.
- The Good
16X recording speed for DVD+R media

Supports DVD+R DL media writing at 2.4X
Supports overburning with CD-R/RW media
Good DVD-R and DVD+R DL writing quality
Good CD writing quality
Good CD error correction
Can be used to measure (scan) DVD±R/RW media
Can read/rip protected Audio discs (CDS200, Key2Audio)
Region lock can easily be removed
- The Bad
Does not support overburning with DVD±R/RW media
Cannot backup copy protected games with versions newer than 2.8 of SafeDisc protection
Doesn't support reading of DVD-RAM media
Competition offers 4X DL writing
Competition offers 16X DVD-R writing
No power button on the case
Only USB connection, no firewire
- Like To be fixed
Burning quality with specific DVD-R media
Bitsetting option for both DL and +R/RW media
DVD+R writing quality with many media needs impovement
CD writing quality at 48X
DVD error correction could be better
| | |
| --- | --- |
| Retail Package | |
| Reading | |
| Error Correction | |
| Protected Discs | |
| Writing | |
| Features | |