9. DVD Writing Tests
- Writing Performance
Now we will check the burning performance with DVD media. Below, the available writing speeds, as reported by Nero Burning Rom.
Using Nero CDSpeed with DVD-R and DVD+R media, we are able to see the 16X writing strategies.
- DVD+R media @ 16X CAV
- DVD-R media @ 16X CAV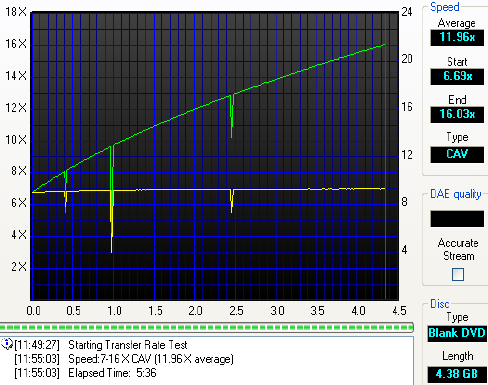 Many speed drops where reported when the NEC burned the DVD+R, while also a few speed drops where reported in the case of DVD-R.
- Burning Tests
DVD-R media
The drive has a large DVD-R compatibility list for 16X recording. Two of the 8X certified media allowed recording at up to 16X while two other 8X certified media allowed burning at 12X. Writing times at 8X are somewhat high where most burners need around 8 minutes or even less. The NEC burner needed a little under 10 minutes which resembles 6X more than 8X. At 12X, the reported times are reasonable.
Once again the compatibility list for 16X is large for DVD+R media, just as it was for DVD-R. Traxdata and BeALL media are 8X certified but they were recognized by the NEC burner as 4X media. We hope that a newer firmware will add 8X support for these media.
- Comparison with other drives
Good writing times from the NEC ND-4550A (the lower the better).
- DVD Overburning Tests

The NEC ND-4550A failed to overburn DVD-R and DVD+R media.
- DVD-RAM
The previous NEC models, supported only DVD-RAM reading. The ND-4550A as well as the ND-4551A support not only 5X reading, but also writing at the same speed.
As Maxell stated: "DVD-RAM is an advanced recording media format that offers a range of digital data applications. Its phase-change recording material allows discs to be re-recordable and erasable, and a superior defect management system ensures accurate recording and playback. DVD-RAM allows instant, random access to any location on the disc for fast and easy data reading and writing. Because DVD-RAM supports fast formatting and no finalizing, it is an extremely easy-to-use media. And with DVD-RAM, changes can be made directly on the disc without the need to transfer data to a hard drive first, speeding up the editing tasks..."
- Burning Tests
Using NeroCDSpeed, we produced the following graph:
The drive started writing at 4.95X and using the CLV strategy, reached 5.01X max writing speed, reporting an average burning speed of 4.98X. The task was completed in 11:22mins.
Using the latest Nero version, we burned our usual Single Layer DVD compilation.
The writing procedure ended after 26:56mins. Normally, the time needed would be much less were it not for the "Write and Verify" feature used when writing DVD-RAM media.