NEC and Lenovo Make Three Flagship Devices Available in the US Market
NEC Personal Computers, Ltd., a joint venture company of Lenovo and NEC Corp., announced that its newest LAVIE devices are available in the United States, ahead of CES 2020.
The company has made available the 13.3-inch display LAVIE Pro Mobile laptop; the LAVIE Home All-in-one, equipped with 10th gen Intel U Processor and 4 array far-field mic for voice control; and the LAVIE VEGA laptop featuring a 15.6" 4k OLED display.
Weighing at just 1.85lbs/837g, the LAVIE Pro Mobile pushes the boundaries of thin and light design. While the desktop addition, the LAVIE Home All-in-one comes with a Crystal Sound Display. The blue LAVIE VEGA brings together key features of both the LAVIE Pro Mobile and LAVIE Home All-in-one, compact but built-in with a YAMAHA sound system.
The new 13.3-inch display LAVIE Pro Mobile in the color Bordeaux, is a device aimed for professionals. The lightweight 1.85lbs/837g laptop with a 0.62"/15.5mm ultra-slim body and lift-up hinge keyboard offers portability with a long battery run-time of up to 15 hours.
While the top cover is made of Toray's high stiffness racing car grade carbon, the bottom case is made of light-weight magnesium lithium array.
The AVIE Pro Mobile is starting at 1,599.99 USD and will be available in the US in March 2020.
The LAVIE Home All-in-One is an all-in-one PC for users who want to enjoy entertainment with family or friends without crouching around a small screen.
Staying true to the LAVIE portfolio, its design and function blends in with a home environment. With speakers embedded in the display, the PC is like a piece of glass that can complement your home's interiors.
The Crystal Sound Display developed by LG Display generates a clear and better directed sound by vibrating the display.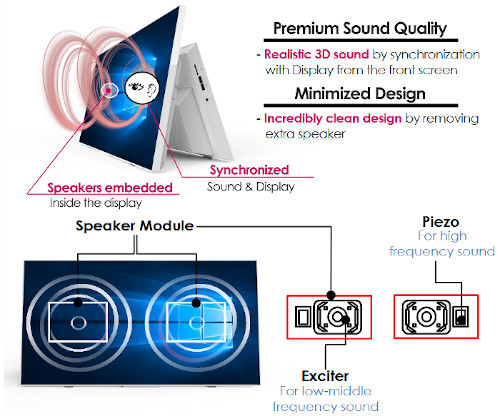 The voice-operated control also offers the option to use Intel's Wake On Voice function to control the PC, even when Windows system is shut down.
The LAVIE Home All-in-One is starting at 1,799.99 USD and will be available in the US in March 2020.
The LAVIE VEGA features a Gorilla Glass 6 back cover offering a reflective deep blue alumite finish. But the glass serves another special function called Smart Light. The LAVIE logo at the top has an LED built inside that works like a smart speaker, supported by Microsoft's Cortana with Modern Standby. Even when your laptop is closed and on sleep mode, the far field mic can pick up voice commands and activate Microsoft's Cortana to kick-start apps.
If you use a PC as a music player, LAVIE VEGA also offers a YAMAHA sound system co-designed by YAMAHA's team of sound masters.
Starting at 2,099.99USD, the device will be available in the US in March 2020.