6. CD Recording Tests
- CD-R Format
The drive supports 8X, 16X, 24X, 32X, 40X and 48X (CAV) writing speeds.
According to Nero CDSpeed, the reported average speed when recording at 48X is 36.49X.
- CD-R Recording Times
We created an 80min data compilation with Nero Burning Rom and recorded it on a 700MB disc. The writing performance varies according to the media. Below is a chart showing all recording times with various media.
As the above graph indicates, not all inserted media were burned at the max 48X speed. SKC media was burned at 32X in 3:38mins, while Traxadata is 40X certified but was burned at 48X in 3:06mins.
- Other features
According to Nero's CDSpeed and its overburning simulation test, the NEC drive is capable of recording 92min on a CD. Note that this test is done with a 99min disc. No such overburning is possible on an 80min CD, while not many burners can write to 99min discs.
- CD-RW Format
The ND-4550A supports 4X, 10X, 16X (CLV), 24X (Z-CLV) and 32X (Z-CLV) rewriting speeds, with Ultra Speed Rewritable Media (US-RW).
Below, you can see the Nero CD-DVD Speed writing simulation test with blank 32x US-RW media from Mitsubishi Chemicals.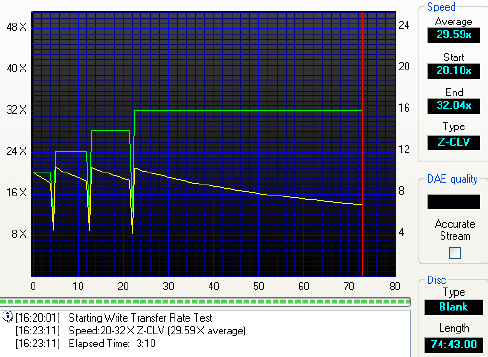 The drive, when recording at 32X , reported an average writing speed of 29.59X.