18. DVD+R DL - Page 1
- Writing Tests
We burned some DVD+R DL and DVD-R DL discs with DVD-Video content. The source disc was "Gladiator Movie - Special Edition" disc1 with a total size of 6.86GB. First we transferred the movie to the hard disc with DVD Decrypter as ISO format (single file).
We then used the latest CopyToDVD, and specifically the "Movie & Pictures" option, and then "Write DVD Video". The software prompts us to select Video_TS/ISO image folder. We chose the "GLADIATOR.ISO" image and we selected the NEC ND-3540A burner.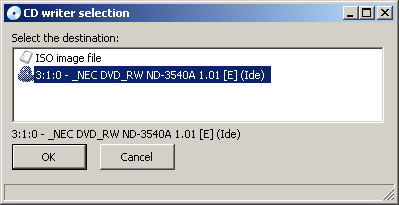 The screenshot below was taken when Verbatim DVD+R DL 2.4X certified media was inserted. The NEC drive was able to burn this media overspeeding up to 8X burning speed. As we will see from the following screenshots, this can not be done with 8X certified DL media.
After pressing "OK", the burning procedure started without any unexpected delays. It should be noted that we did not change the default booktype setting prior to writing the disc to DVD-ROM booktype, in order to investigate the default booktype setting for this media type.
- Verbatim DVD+R DL 2.4X @ 8X
- MKM DVD+R DL 8X @ 4X
- MKM DVD-R DL 4X @ 6X
- Traxdata DVD+R DL 2.4X @ 2.4X
The writing process was finished after 15:17 minutes when writing at 8x, and 19:31 minutes when writing at 6x. The average speed was 5.97x and 5.12x respectively, as reported by the CopyToDVD software.
For comparison reasons, we post DL burning results with other writers, with the same disc content and same recording software. As you can see, this is not the fastest recorder available, but it still is fast enough to outperform most burners on the market.
| | |
| --- | --- |
| Drive | Time (mins) |
| NEC 2510A | 37:17 |
| BenQ DW1600A DL | 40:16 |
| BenQ DW830A | 39:14 |
| NEC ND-3540A | 15:17 |
| LG GSA-4120B | 38:12 |
| ASUS DRW-1604P (4X) | 23:10 |
| ASUS DRW-1604P (2.4X) | 38:08 |
| Pioneer DVR-108A (4X) | 23:10 |
| Pioneer DVR-108A (2.4X) | 38:23 |
| NEC ND-3500A | 22:52 |
| TDK 1616N | 22:51 |
| NEC ND-3520A | 22:35 |
| NEC ND-3530A | 17:48 |
| Pioneer DVR-109 | 16:29 |
| BenQ DW1640 | 14:14 |