11. DVD Recording Tests
- Writing Performance
Now we will check the burning performance with DVD media. We expect no surprises here due to the fact that the drive uses the same burning speed for DVD±R/RW. Below, you can see the available writing speed graph, as reported by Nero Burning Rom.
By using Nero CD-DVD Speed with DVD-R and DVD+R media, we are able to see the 16X CAV recording technology in action for -R and +R media. You can clearly see that WOPC is activated.
- DVD+R media @ 16X CAV
- DVD-R media @ 16X CAV
- Burning Tests
DVD-R media
Overspeeding has always been a "plus" for the NEC drives. As we can see, the 3540A is no exception managing to overspeed TY, Verbatim and Maxell media, at 12X for the first two and 16X for the last. Best burn came with Maxell media 8X DVD-R burned at 16X writing speed in 6:12mins.
With DVD-RW we had no surprises, as the 3540A managed to burn a full RW media at 10:43, much like the other 6X -RW enabled recorders.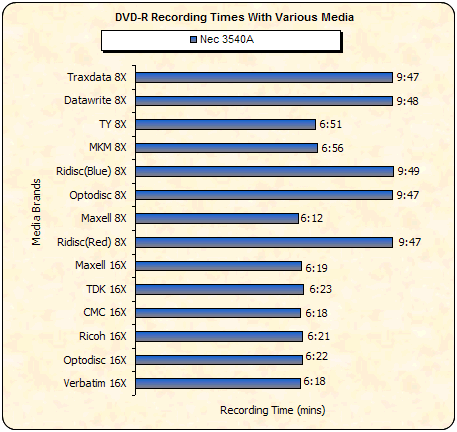 In this case, while using DVD+R media, we got the same overspeed performance from the drive with TDK 8X and TY 8X, both burned at 16X speed. The only drawback is the drop in burning speed for some media, such as CMC MAG and RiDisk which were burned at 12X instead of their stated speed of 16X. Bust burn (fastest one) came with TDK 8X media burned at 16X in only 6:07mins.
With DVD+RW media, we saw great results. The drive managed to produce a full burn in only 7:25mins, which is even better than DVD+R 8X media.
- Comparison with other drives
In both cases, for both DVD+R and -R media, the NEC drive was slowest with a slight difference from the LiteOn and BenQ drives.
With DVD+RW, all three drives performed similarly, burning at the speed of 8X. With DVD-RW media, the NEC was slower by 40 or so seconds.
- DVD Overburning Tests
Unfortunately, the drive does not support overburning.
- DVD+MRW Tests
The NEC ND-3540A does not support the Mount Rainier feature.