9. Writing Quality Tests - C1 / C2 Error Measurements
We measured the C1 / C2 error rate on the recorded discs we burned at the various supported writing speeds. The software we used is the latest PleXTools Professional and in particular the built-in Q-Check utility. The reader was the Plextor PX-716A.
BenQ 80min 52X @ 48X
Intenso 80min 52X @ 32X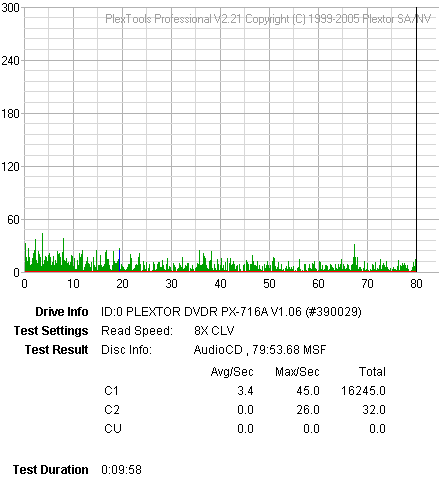 MMore 80min 52X @ 48X
Philips 80min 52X @ 48X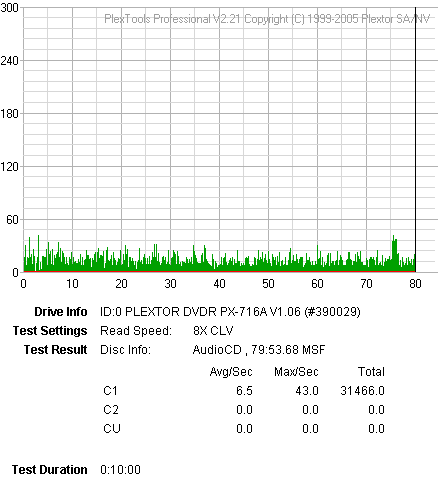 SKC 80min 52X @ 32X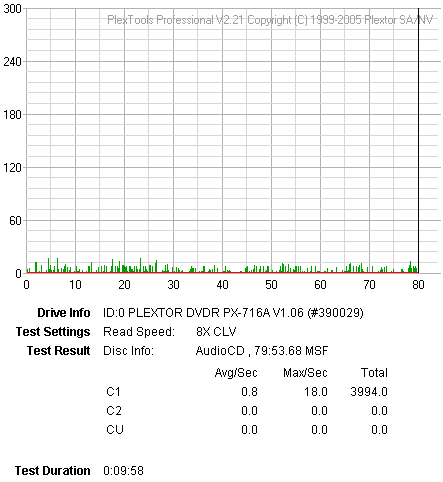 Traxdata 80min 52X @ 48X
Verbatim 80min 52X @ 48X
Waitec 80min 52X @ 24X
- Summary
5 out of 8 discs we burned reported C2 errors. This, of course, is not acceptable for a good quality burner. We think that CD writing quality should be further improved by NEC's engineers, with a new firmware release. It is strange that even A-Grade media like Verbatim produced such errors. On the other hand, SKC, Philips and MMore CD media reported very good results.