23. DVD+R DL - Page 2
- Writing Quality
In order to test the NEC ND-3530A DVD+R DL and DVD-R DL writing quality, we used the LiteOn SOHD-167T and the Plextor PX-716A drives.
CMC Magnetics DVD+R DL @ 2.4X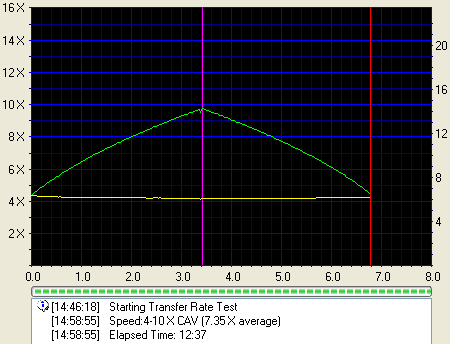 Unfortunately, the LiteOn SOHD-167T cannot read -R DL media and this is why we can only do a quality scan with the Plextor PX-716A burner.
As you can see, only Verbatim media reported acceptable results for both the -R DL and +R DL media formats. We should note that both Traxdata and CMC Magnetics, which produced high PI error values, were recorded at 2.4x and much better writing quality was expected. According to NEC, writing strategies will be further improved for these media types in the next firmware release.
In the following screenshots, you can see for reference reasons, the media info reported by DVDInfoPro software for the Double Layer discs we burned. You can see that the default booktype setting for +R DL media is set to DVD-ROM. This ensures maximum compatibility with stand-alone DVD Players.