9. Writing Quality Tests - 3T Jitter Tests
NEC ND-3520A Burner - Page 9
Writing Quality Tests - 3T Jitter Tests
On this page we present the 3T Pit & Land Jitter graphs when using various media burned at maximum speed allowed by the burner.
- 3T Pit results
The highest 3T Pit jitter level reached was 42nsec with Traxdata 52X media. But in all other cases, 3T Pit jitter values remained below 35nsec, which is the Red Book limit. Best performance came with SKC 52X media (32nsec), followed by Verbatim 52X media (32.22nsec). Generally, the performance of the ND-3520A was rather good, great improvement compared with the ND-3500A model.
- 3T Land results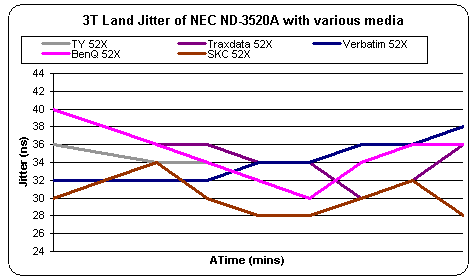 The 3T Land results were also acceptable in most cases. Again, best results came with SKC 52X media (30.22nsec).
Although CDR writing quality was a headache for the ND-3500A, the new ND-3520A managed to perform quite well. Note that most media were burned at 48X, so lower burning speeds should by rights, produce even better results.