6. DAE Tests
NEC ND-3520A Burner - Page 6
DAE Tests
- Pressed and CDR AudioCD results
The ND-3520A supports up to 13-32X CAV DAE speed. The following results were reported when using Exact Audio Copy software.
The Plextor burner supports up to 40X DAE speed. This makes it faster than the NEC burner. On the other hand, for 32X DAE speed, the ND-3520A reported very good performance.
The NEC ND-3520A drive can report C2 errors, but caching is not supported.
- Advanced DAE Quality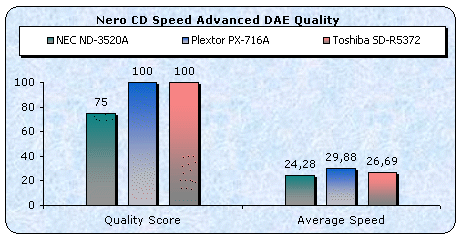 The performance of the ND-3520A was not that good at this point. Always remember that good burners can achieve a perfect quality score of 100, but the NEC burner could only achieve a score of 75.0. Additionaly, the drive was the slowest of all three burners in this comparison matrix, while the Plextor PX-716A reported the highest speed. The ND-3520A cannot read Leadin data or Leadout data, but it can read CD Text and Subchannel data. The reported average speed was 24.28X. It seems that the drive's performance has not improved from the ND-3500A model.
- Ripping 90mins AudioCDs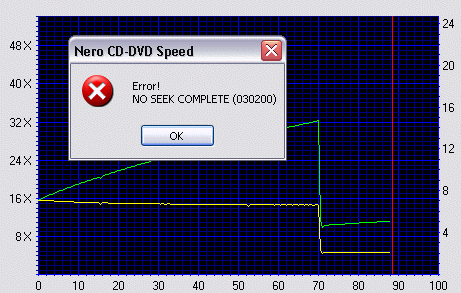 The ND-3520A had problems ripping 90mins AudioCDs. Reading speed dropped to around 10X near the end of the reading process, from the 77th min to the end but the drive could not read the disc succesfully. We reminded you that the ND-3500A model could read/rip 90mins discs without problems.
- Ripping 99mins AudioCDs
With 99min AudioCDs, the burner could not even start the reading process, giving the following error message.
It should be noted that 99min Audio CDs have been a problem with all NEC based drives.