15. Overclocking
15 - Overclocking
No matter your graphics card, there comes a time in your computer's life when it can no longer cope with the latest technology the ever so popular games use. This is one of the main reasons for overclocking your graphics card. Gamers are always looking forward to a little extra boost in terms of framerate. Even though most of the time the boost is far from noticeable, overclocking remains the last resort when you can't afford to buy a brand new VGA card.
The default clock speeds for the card are 350MHz for the core and 500MHz for the memory. All overclocking is managed through Gainward's utility ExperTool which is supplied inside the driver software disk.
ExperTool is a software for tweaking your Gainward card's clocks and desktop settings. It loads at the windows startup by default and can be found on the tray bar as an X icon.
Right clicking on it presents us with the menu illustrated below. What is of interest here is the performance option. The rest of the options are typical of any driver software, be it ATI or NVidia.
When we click on performance, once the ExperTool overclocking program starts, we are presented with the following screen.
On the left, there's a list of options for tweaking your Gainward card as in the tray menu we saw a bit earlier. On the right, you can see two fake heat indicators, one for the core and one for memory clock. Increasing the core and memory clock speeds, the indicators increase their pointed value accordingly. In other words they don't really show how hot the graphics processor gets but just offer a suggestion of how far you should go when overclocking the card.
As the card is built for the purposes of overclocking so it will reach the 6800 Ultra's values without any risks, we immediately clicked on the Enhanced Mode Settings as advised in the manual. The speeds increase to 400 and 1200Mhz respectively for 3D performance and we are ready for gaming as ExprerTool will hold these settings as long as it keeps running.
Through ExprerTool, you can also set the fan speeds in case you're worried about the card overheating. The default selected value for Fan speed is "Dynamic Speed", which means that whenever the card's internal temperature sensor indicates the card is getting hotter than normal, the fan speeds are increased by the driver software automatically to cool it down.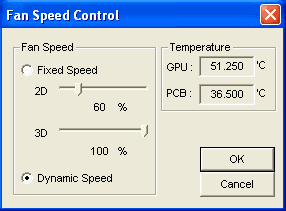 For the record, the maximum values you can set the clock speeds at are 420MHz for the core and 1300MHz for memory. The card is already overclocked at a satisfactory level and we found it most proper not to overclock this card any further, as the tiny performance gain we got wasn't worth the risk of instability.