2. A closer look
02 - A closer look
Main Features

GPU

Nvidia 6800GT - NV40

Memory Type

256MB 1.6ns 256-bit DDR3

Memory Speed

600MHz

Core Speed

400MHz

Memory Bandwidth

38.4 GB/sec

Pixel Pipelines

16

DX Support

9.0

OpenGL Support

1.5

Output

2 DVI-I / D-Sub

Bus

AGP 8X,4X,2X (requires 2 expansion slots)

Processing technology

0.13 micron
The card's full title is "Gainward Powerpack! Ultra/2400 Geforce 6800GT Golden Sample GLH". Simply put, the card is a special version of the 6800GT built for the purposes of overclocking it up to the 6800 Ultra's clock speeds.
Cooling is taken care of by a couple of fans protected by a huge magenta copper cage. The cage is intended to keep the user from accidentally touching the high speed fans and to prevent damage to the card.
The memory chips are from Samsung and are located on the front of the card, covered by heatsinks. The dual fan set draws colder air from the case interior and blows it on the chips in order to keep them from overheating.
You can see there is no direct cooling solution for the core. Instead, Gainward focuses on the memory components which are the main concern in overclocking when enabling the Enhanced Mode Settings from the driver menu.
A front view of Gainward 6800GT GLH. Click to enlarge.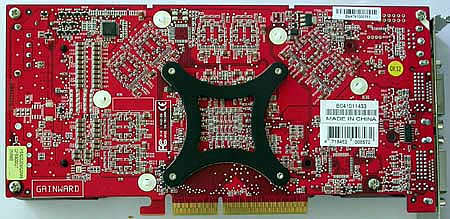 The back side of the card.
Unfortunately, in order to support the cooling system, the Gainward card acquires two major drawbacks.
The first one is that the card consumes around 150W. Even though the design is such that it doesn't need a second molex connector for power, the power consumption in itself is simply insane. The required power supply as suggested by Gainward is for at least 300W.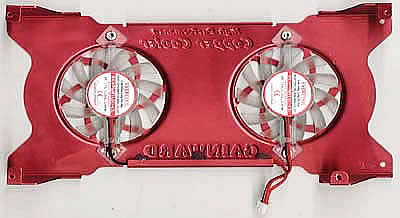 In order to reach to 6800GT's core first we had to unscrew the copper cage.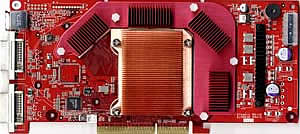 Before...
and after removing all the heatsinks.
After a while we reached our target. The NV40 chipset
The second drawback is that the card also hogs the space over PCI slot below the AGP slot of your motherboard. While the card with just the heat sinks installed could fit in the AGP slot alone, the fans and copper cage require the extra space.
The extended bracket of Gainward 6800GT
We didn't mind repositioning our PCI expansion cards but what troubled us is the fact that on the left hand side of the package there is a clear message stating "The Gainward 3D processor board occupies one AGP slot"...
As you can see in the picture above, the Gainward 6800GT GLH offers 2 DVI outputs for direct connectivity with a TFT monitor and one for S-Video input. With the supplied cables and adaptors that come with the card, you will have no problem connecting your accessories or hardware to it.