Crucial MX300 750GB SSD review
4. CrystalDiskMark
The next benchmark is the CrystalDiskMark. The software provides throughput data based on sequential reads and writes, and random (512K/4K/4KQD32) reads and writes of various sizes.
We start with the older version of the CrystalDiskMark, in order to compare the MX300's performance with other SSDs we have tested so far.
The MX300 750GB drive reached 448 MB/s read and 444MB/s write in the standard sequential write test. The Random 4K performance on the drive was 28.13 MB/s read and 134 MB/s write.
The results did not change much when we ran the test again set to 0Fill mode:
The latest version of the CrystalDiskMark utility returned performance figures close to those quoted by Crucial. Sequential Q32T1 read/ write speeds were 535 MB/s and 513.7 MB/s , respectively.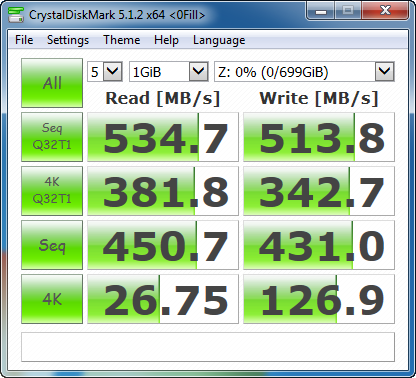 The charts you see below are based on the data coming from CrystalDiskMark v3.0.4. The MX300 ranks somewhere in the middle of the chart in terms of sequential read speed, and we would also like to see a better 4K random read performance, although the latter was significantly improved in 4K Q32 reads:

In the sequential write benchmark the MX300 SSD was slower than the MX200:

The MX300 had an average behavior in the 4K and 4KQ32 write tests, delivering decent results. Again, the drive performed better in 4K writes in QD32: