Crucial MX300 750GB SSD review
8. PCMark 7 Secondary Storage benchmark, PCMark 8 Storage
PCMark 7's Secondary Storage benchmark module offers a real-world application measurement approach to testing. The benchmark offers a trace-based measurement of system response times under various scripted workloads of traditional client / desktop system operation. From simple application start-up performance, to data streaming from a drive in a game engine, and video editing, these tests illustrate the performance profile of SSDs in a consumer PC usage model.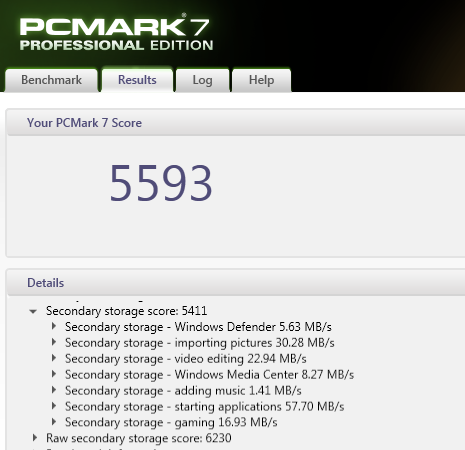 Below you see the secondary storage scores of some of the SSDs we have tested so far. The MX300 SSD is not the faster performer in the charts below, and trailed overall in the PCMark storage benchmark.
We continue with the PCMark 8 Storage benchmark, which uses traces recorded from Adobe Creative Suite, Microsoft Office and a selection of popular games. Unlike synthetic storage tests, the PCMark 8 Storage benchmark highlights real-world performance differences between storage devices.
We ran the storage benchmark test suite:

The overall score for the MX300 SSD was just 4975 points, which is lower than the scores of other SSDs.