Crucial MX300 750GB SSD review
5. AS SSD benchmark
We move on with the AS SSD benchmark, which contains five synthetic as well as three practical tests. The synthetic tests determine the sequential and the random read / write performance of an SSD. These tests are carried out without using the operating system's cache. The Seq-test measures how long it takes to read and write an 1GB file. Most importantly, this sequential benchmark uses incompressible data for all of its transfers.
The Crucial MX300 750GB SSD reached a score of 1123. Sequential speeds hit 482MB/s for reads and 419.6MB/s write while 4K speeds reached 24.34MB/s for read and 122.78MB/s for write. The result are average.

Compared to other drives, the MX300 was not the faster one in the sequential read tests, and performed similarly to the MX200: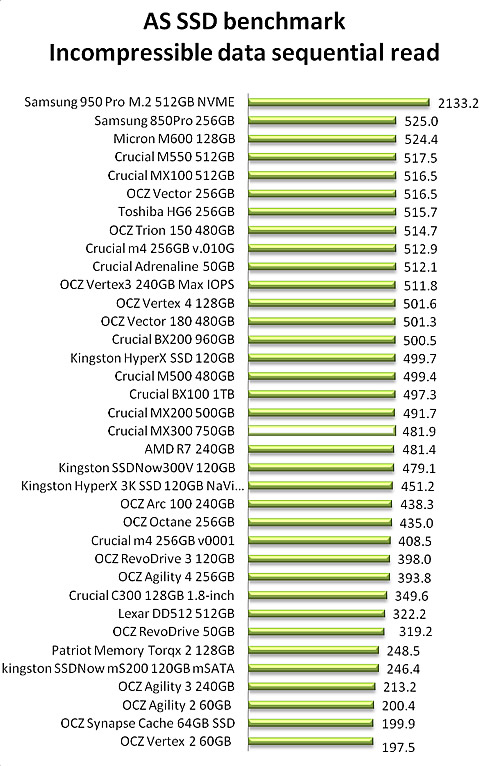 The 4K random read test was also a bit has rd for the MX300, delivering an average performance:
The MX300 was very fast in the 4K 64 thread random read test, and it ranked among the top performers in the chart below: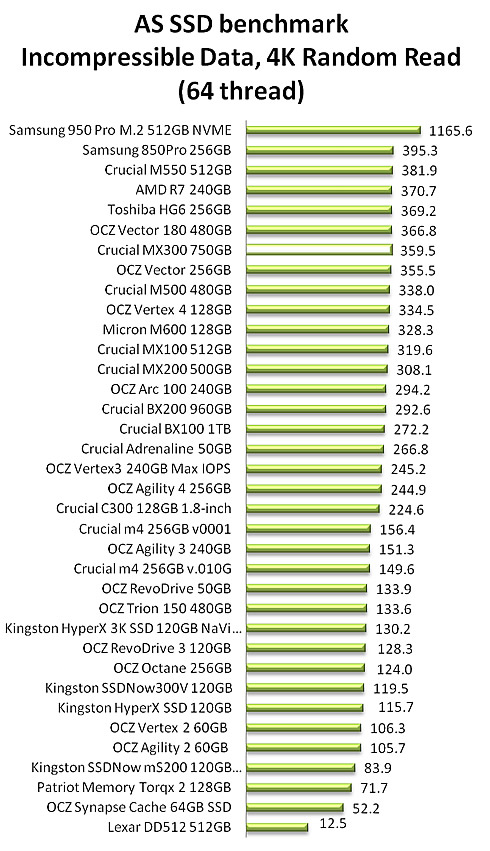 In the write tests, the MX300 was not so fast at the sequential test (419.6MB/s), and lagged behind the MX200 and other drives such as the OCZ Trion 150.
The MX300 matched the 4K random write speed of the MX200 SSD, and ranked among the top drives in the chart below. However, it fell a bit behind the competition in the 4K random write (64 thread) test:

Next up we ran the Compression Benchmark built-into AS SSD. This test uses a mix of compressible and incompressible data and outputs both Read and Write throughput of the drive.
The MX300 SSD showed a stable behavior across the board, save for a few dips of a few MB/s in the write test. The compressibility of data being transferred on the SSD had little to no impact on performance.