Crucial MX300 750GB SSD review
1. Crucial's first 3D TLC NAND SSD
Micron's first solid-state drive based on the most advanced storage technology the company has ever had in an SSD is the Limited Edition 750GB Crucial MX300 SSD. The drive is based on Micron's 3D TLC NAND and is available in a single capactity (750GB) as well as a single 2,5-inch form factor, at least for now. Actually Micron has chosen to debut the new new Micron 3D NAND product in a "Limited Edition" version, in order to showcase the speed and reliability of the SSD that comes witha large capacity and a more afforddable price: $199.99 SRP. There's more to come later this year, with additional capacities and form factors. Sometime in the third quarter, Micron plans to offer the 2,5-inch MX300 in capacities of 275GB / 525GB / 1,050GB, followed by a 2,050GB (400TBW) vesion in Q4.
Think of 3D NAND as an island with a limited amount of length and width but many, many people. In order to accommodate all the people, there is only so far you can go out before you have to start going up. Micron 3D NAND stores bits on semiconductor die horizontally and vertically (along the X-Y planar dimensions) to make storage capacities increase and costs decrease.
The Micron/Intel approach in 3D NAND is different than Samsung's. Planar NAND of all sorts has long been based on floating-gate transistors. To create its stacked flash product, Samsung abandoned floating gates and moved to charge-trap flash. Intel and Micron have chosen to betting their 3D NAND money on the floating-gate approach. While that choice allowed Samsung to take V-NAND to market first, Intel and Micron believe that their combined ability to leverage years of floating-gate infrastructure and expertise will give them an advantage in the long run.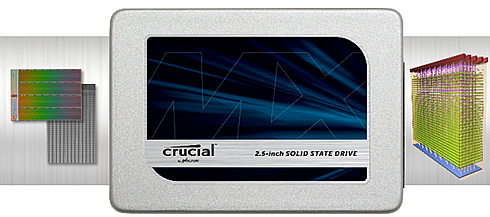 The MX300 uses the 384-gigabit TLC, which is a very high density. Consider that Samsung's first-generation V-NAND (also 32-layer) only maxed out at 128Gb in a TLC die. Even Samsung's second-generation, 48-layer stuff only peaks at 256Gb in a TLC die.
Micron 3D NAND is engineered with larger NAND cells that improve performance and prolong endurance, resulting in sequential reads/writes up to 530 / 510 MB/s on all file types, random reads/writes up to 92k / 83k on all file types, and an endurance rating of up to 220TB total bytes written.
Specifications
Form Factors: 2.5-inch 7mm
Capacity: 750GB
Part number: CT750MX300SSD1

Sequential read: 530MB/s
Sequential write: 510MB/s
Random read: 92k IOPs
Random write: 83k IOPs
Endurance: 220TB Total Bytes Written (TBW), equal to 120GB per day for 5 years
Life Expectancy (MTTF): 1.5 million hours
Warranty: Limited three-year warranty
Operating Temperature: 0°C to 70°C
Firmware: User-upgradeable firmware
Hardware Encryption:

AES 256-bit encryption
TCG Opal 2.0-compliant
IEEE-1667-compliant
Compatible with Microsoft eDrive


Data Transfer Software: Includes Acronis True Image HD software for free data transfer
Compliance: CE, FCC, BSMI, C-Tick, VCCI, Kcc, RoHS, China RoHS, WEEE, TUV, UL, SATA-IO
Advanced Features:
Dynamic Write Acceleration: This technology uses an adaptable pool of high-speed, single-level cell (SLC) NAND flash memory to generate fasterspeeds throughout the drive's long life.
Redundant Array of Independent NAND
Multistep Data Integrity Algorithm
Adaptive Thermal Protection
Power Loss Protection
Data Path Protection
Active Garbage Collection

TRIM Support
Self-Monitoring and Reporting Technology (SMART)
Error Correction Code (ECC)
Device Sleep Support